Peace Park 2000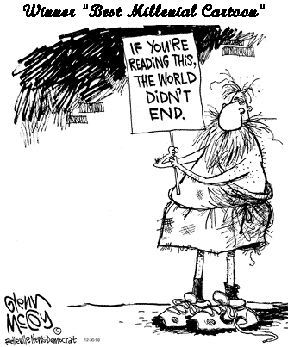 There was a brief flurry of activity in the park at the millenial rollover, people venting concerns about the safety of nuclear power plants and weapons during "Y2K." When few incidents were reported, the world gave a great sigh of relief and moved on to other issues.
The first winter of the new millenium passed uneventfully, other than a good thick snow, and a stream of interesting issues, such as US Out of Vieques, Puerto Rico, Granny D for Campaign Finance Reform, and DC's Democracy On Trial.
Another: No Nukes in Space! April 14-17, 2000, four days of events to protest the resurgence of Star Wars. And the IMF/World Bank actions in April, with extraordinary police preparations spilling over into Lafayette Park.
Global Peace Walk 2000 started in San Francisco in January, talking about Proposition One among other issues, planning to be in DC in October; see http://www.globalpeacenow.org.
We continue to actively support Abolition 2000 and other activist networks, the Campus Outreach Project, web researchers.
Walt Root and Juan Quixote began filming further adventures of "Squirrels for Peace," and in March 2000 began drumming for peace (first Sunday of each month, 1 pm, Lafayette Park).
New pylons have been erected around the perimeter of Lafayette Park, after months of cyclone fences and construction. We hope this is the extent of the National Park Service's redesign plan, although experience leads us to believe otherwise.
---
Current Situation
Regulations | Park Closures | Pennsylvania Ave. Closure
Legal Overview | Peace Park | Proposition One

---