Inauguration 1997 - The Clinton Years
1997 | 1998 | 1999 | 2000

Clinton's First Term
1993 | 1994 | 1995 | 1996
Reagan - Bush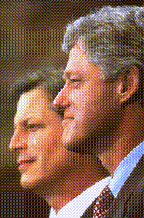 The following letter was sent to the news media in early 1997:
If, between November '96 and February '97, you looked for us and thought we had disappeared (White House Peace Vigil - Peace Park Antinuclear vigil - and stalwart old and new friends), in November, 1996 our signs were moved across Lafayette Park to H Street to make room for President Clinton's second inauguration -- as has happened every four years since the vigil began in June, 1981.
A dozen large mobile homes stood for months, damaging the grass of the southern half of Lafayette Park for the construction crews' daytime comfort as they tore down the huge bleachers they built for the inauguration. Police patrolled regularly, in part to make sure no homeless people crawled under the empty trailers in the icy dark of night. The bathrooms on the north side of the park were locked, though construction workers had several porta-johns for personal use. Fences of every variety were intricately laid out to confine demonstrators in the northwest corner of Lafayette Park, where they were least likely to be noticed. The bricks where office workers and tourists usually walk were torn up, and huge - ugly - three-story bleachers rose in the space where our vigil normally stands, along the north side of Pennsylvania Avenue, so the press -- for a couple of hours one afternoon -- could stay warm and dry near bathrooms, while President Clinton and close friends watched his second inaugural parade.

Homelessness continues. DOI Solicitors continue to change the rules. We've observed numerous incidents where police officers arbitrarily decide that lone demonstrators, preachers, artists, musicians, and even TV film crews, have to stop what they're doing, leave the park, or (yes!) move their stuff out of the park and into Pennsylvania Avenue.

There seems to be no logic or law to support some of their demands. Yet they usually prevail.
We hope this behavior by the police and DOI lawyers will stop. We hope you will help Representatives and Senators recognize the importance of protecting free expression outside the White House. Otherwise there may not BE a Peace Park by the time the next inauguration rolls around.
And, unless we've left because we've won our way, and nuclear weapons no longer exist on earth, and justice at last prevails, our disappearance from Lafayette Park would be an ominous sign indeed.
So if you're looking for us and don't find us, patrol the whole park.
If you still don't see us, call or write the White House (202-456-1111-0) and ask the President to use his power to de-regulate and protect Lafayette (Peace) Park, and tell the police and DOI lawyers to "leave those harmless peace vigilers alone."
---
Write us what you think about it all!
---
Current Situation
1776-1980 | 1981 | 1985 | 1989 | 1993 | 1997
Regulations | Park Closures | Pennsylvania Ave. Closure
Legal Overview | Peace Park | Proposition One

---