1985-89: Reagan Years
Reagan's First Term (1981-85)
1985 | 1986 | 1987 | 1988
Bush - Clinton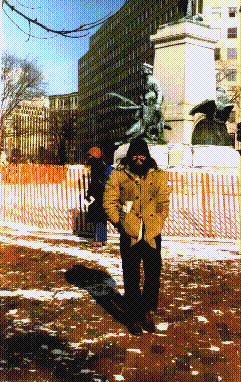 When Ronald Reagan tried to have a second inaugural parade, it was so cold Inauguration Day 1985 that the "Peace-through-Strength" President was defeated by the weather and called it off, and the quarter-million-dollar bleachers went unused. We were shivering and dancing in the northwest quadrant of the park, giving credit to God for a good sense of humor. Caterers dropped off unused feasts, which we shared with homeless folk stuck outside.
We wrote President Reagan a message in 1985, asking that he leave the bleachers up for the rest of the winter, for homeless people to get out of the cold, wet, snowy, icy streets. We weren't asking for us -- we always remain at our signs with the minimal amount of protection necessary to survive. We asked on behalf of the homeless sleeping on the DC streets despite police harassment. (In November '96 we wrote President Clinton the same request because, after all these years, homelessness remains a problem.)
It could be the Reagans didn't take too kindly to our request. After the inaugural , Senator Mark Hatfield wrote a letter to the National Park Service, copy to First Lady Nancy Reagan, asking that something be done about the "visual pollution" in the park. One might imagine the Senator dancing with Mrs. Reagan at one of the balls, ear bent to her complaints.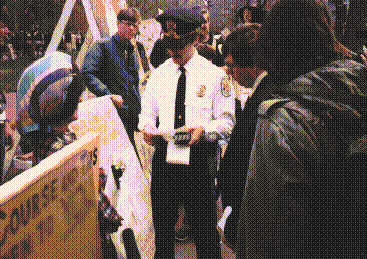 The Department of Interior Acting Deputy Director advised the Senator that the law protected the vigilers. DOI Assistant Solicitor Richard Robbins began the next phase of changing that law.
Judge Richey was clearly influenced by the third, newest regulation which was enacted in 1986 after another media campaign. This time we got a little good press mixed in with the bad. A voluminous "Administrative Record" included thousands of signatures (collected primarily by Concepcion Picciotto) on a petition opposing the DOI plans for further first amendment restriction gathered during the 60-day comment period. The Park Service had only a handful of letters (one of them Senator Hatfield's) to justify their new rule.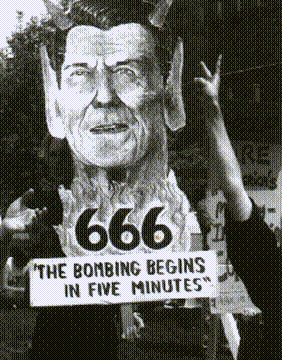 About this time Reagan's teflon coat was wearing thin. Oliver North's bunch were exposed as liars, accused of drugs-for-guns trade with the Contras, pre-election deals with Iranian kidnappers, allegations which escaped full judicial review.
Reagan's "Evil Empire" rhetoric was challenged by a new Soviet leader who declared glasnost, perestroika, and a policy of global nuclear disarmament. Very impressive demonstrations in opposition to Reagan and Bush's "peace through strength" policies in Central America and the Middle East were becoming regular events. Most scientists were declaring "Star Wars" undoable and hideously expensive. Yet arms merchants kept getting new contracts
Cartoonists were boldly lampooning Reagan's policies. More and more homeless people populated the grates and doorways of the nation's capital, while Reagan declared they "wanted" to be there, and claimed the fact they COULD be there proved that America was a great country.
---
Current Situation
1776-1980 | 1981 | 1985 | 1989 | 1993 | 1997
Regulations | Park Closures | Pennsylvania Ave. Closure
Legal Overview | Peace Park | Proposition One

---