Concepcion's Personal History:
Life in New York
I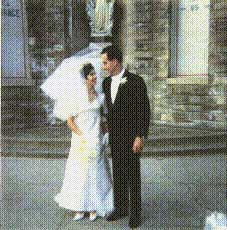 was married on October 29. 1966. At that time, we had very difficult moments due to an old woman that my husband claims as his aunt. She was, however, no relationship whatsoever.
In the beginning, I noticed very peculiar behavior between them. I believed it to be the Italian way of life and Italian customs. I tried very hard to gain her sympathy; but everything I did was useless. she never agreed that my husband was married. One of her best friends, Gina Granrelli, used to tell us that we should move far away from her. This lady told me. "It is not because of you, Conchita (short for Concepcion). Any girl who married him would have the same problems and difficulties." She addressed herself to my husband and said, "So what is the situation now? Two husbands and two wives?" that meant there was something going on between them. After we were married my husband told me that, at the age of nineteen, he was involved with a baronessa in Italy, and that he was living with her until he came to the United States; and that he already had this other old woman's address in his pocket.
She nagged at me all the time telling me that in those days, they didn't have all the facilities that we have today. For instance, that they had to wash everything by hand, that they didn't have a car, and so on. They also made many remarks that I was not able to give birth to a child. This was very painful for me, so one day, I asked her how many children she had. I was sick and tired of her annoying, and interfering in my private life.

We could not go to see a movie unless they felt like going, or even go to the beach. If someone invited us to a wedding, or even a shower for the new bride, they had to be invited too, otherwise we wold have to refuse the invitation.

My husband used to convince me to cope with the situation, since they were very old and that one day we would be the owners of their property and belongings. I did love my husband very much, and so I tried my best to please everyone.

The first two years of our married life were spent at 380 Avenue U, Brooklyn, New York there we had a beautiful modern apartment. The only problem was that we did not spend very much time in it besides the working hours. Every night we had to go to dinner at her house and we stayed very late. We went in the summer and winter, and we had to walk home to sleep. Many times we slept there, too. I tried to convince my husband to stay home and let me cook for him to see if he liked my cooking. He did not like the idea, but finally agreed. However, on Thursdays and weekends, we had to go there. One day during dinner, he started to argue about the same thing. He raised his fist and banged the table and all the dishes and food flew around the room. He then took his jacket and left the house, spending that night in a motel, as he told me after.

The next day, I went to the parish church to see and talk with Father Frank Souccimar, the priest that performed our marriage, and explained the whole situation. He called upon my husband and advised him to change his behavior, or make a decision between the old woman and myself. Again he persuaded me to be patient and to cope with him and carry on this cross that God put upon him.

As the time passed, I was going through the same problem. One day we received news that the apartment on the second floor of this woman's house (but it is also under my husband's name) was going to be vacant. One of the tenants had died, and the house was too big for the wife, so we moved in. I figured that instead of making so many trips going back and forth to the apartment, this would save us a walk in the cold weather. Once we had more rooms than our apartment, and I was trying to make it as comfortable as possible. Besides, I was working at the Commercial Office in the Spanish Embassy and had been for a period of seven years, and I enjoyed buying things for the house.