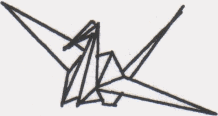 " I will write peace on your wings and you will fly all over the world " - Sadako Sazaki
Hiroshima/Nagasaki Peace Committee of the National Capital Area ...1426 9th Street NW, Washington, DC 20001...703-369-7427 <johnsteinbach@starpower.net>
Dear Friends,
As we prepare to commemorate the 58th anniversary of the atomic bombings this summer, we ask for your support with a renewed sense of urgency about the world situation. Please read and help distribute the enclosed 2003 program materials. (This letter, The Josephine Butler Nuclear-Free Future Award to Hilda Mason flyer, and the request for submissions to determine our youth representative to Hiroshima and Nagasaki in August) And, please consider making a generous financial contribution to help enable our volunteer work.
The atomic bombings serve as a warning to humanity of the genocidal nature of nuclear weapons, and the pressing need for international agreements for their abolishment. We remember the anniversary of the annihilation of Hiroshima and Nagasaki each year in order to renew our commitment to struggle for a world free from the threat of nuclear war and radioactive poisoning. We see nuclear weapons as a symbol of a greater social sickness and link our work for nuclear disarmament with our opposition to the scourges of militarism, oppression, social injustice, and environmental degradation.
In just 36 months, The Bush administration has taken the entire world to the brink of the nuclear precipice. Among his controversial policies are: developing a new first-strike "Star Wars" program; trashing of the Anti-Ballistic Missile and Comprehensive Test Ban Treaties; calling for using nuclear weapons against non-nuclear states; proposing new battlefield nukes; proposing preparations for resumption of nuclear testing; invading and occupying Iraq; occupying, militarizing and destabilizing much of Central Asia; and threatening Iran and North Korea. The world appears to be on the brink of nuclear catastrophe
This August we will observe the fifty-eighth anniversary of the atomic bombings. For the eighteenth consecutive year we will host a delegation of A-Bomb survivors (Hibakusha) from Hiroshima and Nagasaki. We are the only community organization in the U.S. to consistently welcome the Hibakusha. We are again sending a DC area youth representative to Hiroshima and Nagasaki this August as our Representative to the 2002 World Conference Against Atomic and Hydrogen Bombs.
The Josephine Butler Nuclear Free Future Award is given annually to that person or organization who best exemplifies Jo's unceasing commitment to building a nuclear free world with justice for all; especially for the children. The third annual Josephine Butler Award will be presented to Hilda Howland Mason for her unceasing commitment to a more just and peaceful world. (Please see enclosed flyer)
As always, the annual Hiroshima/Nagasaki Commemoration is the work of scores of dedicated volunteer peace workers. The costs of putting on such an event are substantial and we cannot continue our efforts without Community support. Please send your generous contribution today. (MAKE CHECKS PAYABLE TO JOHN STEINBACH: tax exempt contributions can be made c/o Gray Panthers of Metro Washington). We also need volunteers for everything from putting up flyers to escorting our Hibakusha guests. If you can spare any time, especially in early August, please contact John.
The Hibakusha who were children in 1945 are now in their late 60s and 70s, but their terrible memories of that day remain unblurred by time. Their greatest fear is that when they are gone, the memory of Hiroshima and Nagasaki will disappear and nuclear weapons will be used again, this time threatening the entire planet. Please join us that together we may keep alive the spirit of Hiroshima and Nagasaki for the sake of the Children and the Planet.

( Hiroshima / Nagasaki Peace Commemoration2003 )
(LinkToJosephineButlerNuclearFreeFutureAward)
(Link To Youth Essay Contest) (rememberance2002)