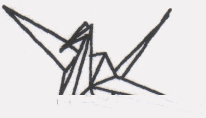 A Project of Gray Panthers of Metro Washington

"I will write Peace on your wings 143691 Street NW, Washington, DC 2OOOI

and you will fly all over the world" 703-369-7437 <johnsteinbach@starpower.net>

-SadakoSazaki

Dear Friends and All Peace-Loving People,

The Nagasaki-Hiroshima Commemoration Committee is conducting our second contest to send a deserving youth to represent the DC/Baltimore area at the World Conference Against the Atom and Hydrogen Bombs in Japan. The Nagasaki-Hiroshima Committee has been working to break the silence about the tragedy that took place in 1945, when the only bombs of mass destruction ever dropped on human beings were dropped by our own government on the Japanese at the end of World War II.

Our Committee has worked tirelessly over the years to educate our community about the atrocities of the atomic bombs dropped on Nagasaki and Hiroshima in Japan in 1945 by our government. We are concerned that those of us who love peace and are willing to work for justice must remember that those bombs - bombs of mass destruction that nevertheless pale in comparison to those the US is prepared to use today - are still killing Japanese today. We work to help ensure that Never Again! will such weapons ever be used against fellow humans, especially not in our names. Over the years, we have: had programs on WPFW-FM radio; hosted delegations of Hibakusha (Japanese survivors of the bombings); held commemorative programs at the Lincoln Memorial; conducted teach-ins; and have sent numerous representatives to Japan to speak at the conference. This will be the second year we have chosen to send a youth to help carry our determined message that this atrocity never happen again!

We are looking for a mature youth (age 18-26). He or she must compete in an essay contest by submitting an essay of from 700 - 1,000 words emphasizing our message of "Never Again! For a Peaceful World Without War and Nuclear Weapons" The deadline is July 1, 2003. Submissions can be made via e-mail (preferred), or snail mail, and can be sent to the address above.

The person chosen as delegate will give several talks and/or speeches on the subject. The
winning candidate will be willing to travel and live independently for two weeks (about July 31-
August 12) ; be comfortable meeting and talking with new people; be open to new foods and respectful
of new customs; see this as a great opportunity to contribute to a world of peace, learn about other
people, and make us proud here at home. It will be a plus if he or she has traveled before. We thank you

in advance for your interest and willingness to be a messenger of peace and justice.