" I will write peace on your wings and you will fly all over the world " - Sadako Sazaki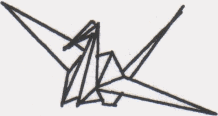 Hiroshima/Nagasaki Peace Committee of the National Capital Area
1426 9th Street NW, Washington, DC 20001 | 703-369-7427 <johnsteinbach@starpower.net>
Dear Friends,
Hiroshima-Nagasaki Committee was founded by the Washington, DC-area Gray Panthers in 1981 to remember the anniversary of the annihilation of Hiroshima and Nagasaki and annually renew our commitment to struggle for a world free from the threat of nuclear war and radioactive poisoning. We see nuclear weapons as a symbol of a greater social sickness and link our work for nuclear disarmament with our opposition to the scourges of militarism, oppression, social injustice, and environmental degradation.
In August we observe the anniversary of the atomic bombings by having rallies, candle-light vigils, and community events. Usually we host a delegation of A-Bomb survivors (Hibakusha) from Hiroshima and Nagasaki. We are the only community organization in the U.S. to consistently welcome the Hibakusha. The Hibakusha who were children in 1945 are now in their late 60s and 70s, but their terrible memories of that day remain unblurred by time. Their greatest fear is that when they are gone, the memory of Hiroshima and Nagasaki will disappear and nuclear weapons will be used again, this time threatening the entire planet.
Co-founder Louise Franklin-Ramirez passed on Hiroshima Day (August 6), 2003. We will do all we can to continue her legacy. We will be posting information below. Please join us each year in hosting and honoring the Hibakusha and their prophetic voices for peace. Together let us keep alive the spirit of Hiroshima and Nagasaki for the sake of the Children and the Planet.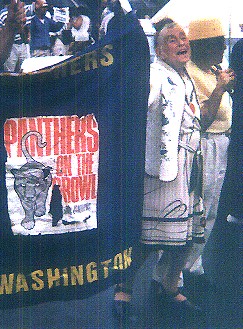 2006 Hiroshima/Nagasaki events, August 5, 7, 8, and 9 (doc format)
2005 Hiroshima/Nagasaki events, August 5, 6, and 8 (pdf format)
Hiroshima Peace Declaration, August 6, 2004
Survivors challenge Smithsonian's Enola Gay exhibit, August 24, 2003
Louise Franklin-Ramirez Obituaries:
Washington Post, August 18 & 19, 2003