Wisdom compells me to recognize that moral perfection is impossible for a member of an amoral nation-state.
---
Then Concepcion and Thomas met their good friend and mentor, Norman Mayer, click picture below for story.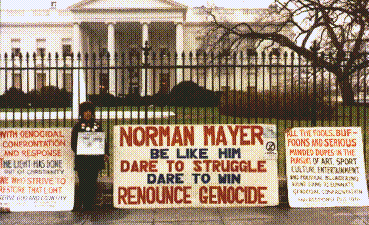 Norman gave them the courage to make more and bigger signs: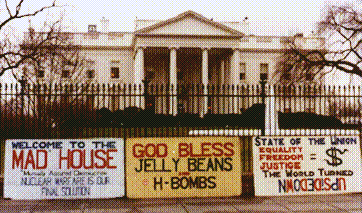 "After Norman died, we painted even more signs," said Concepcion. "I don't remember how many signs there were, but they reached about three-fourths of the way down the White House sidewalk," Thomas said.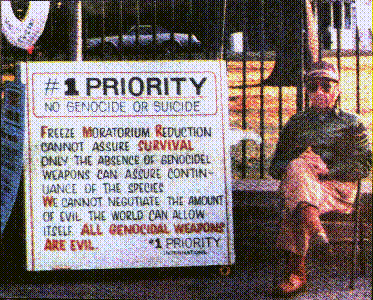 On Dec. 8, Mayer, 66, who had demonstrated daily before the White House against nuclear weapons since June 1982, besieged the Washington Monument for 10 hours before he was killed by police.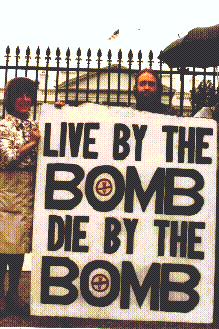 Something else happened after norman's death, the Park Police were worse than ever. It became apparant that new rules were being promulgated by the U.S.Park Police. Concepcion and Thomas fought them in Federal Court: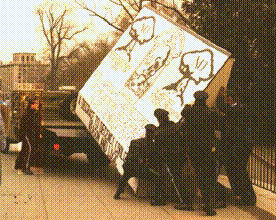 In spite of their resistance, the Park Police and the Secret Service won the battle, and the protesters were forced off the White House Sidewalk: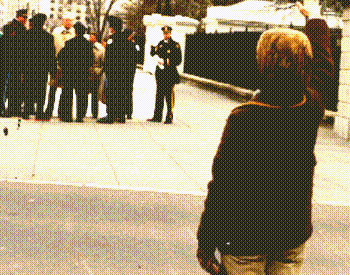 Concepcion salutes the Park Police, Hitler-style, as they take the signs away. "It was disgraceful," she remembers. Protesting on the White House Sidewalk had come to an end. A new way of life began for Thomas and Concepcion:
---
Vigil 1981-1984 | Vigil 1985 to Present
Articles | Photographs | Conchita Personal Story