NORTH AND SOUTH THE PEOPLE SAY "CLOSE THE SOA!"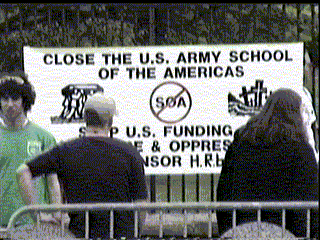 More than 600 people were arrested on November 16, 1997 at Fort Benning, Georgia, home of the U.S. Army School of the Americas.
For decades the U.S. Army School of the Americas (SOA) has trained Latin American soldiers to suppress the basic rights of their people. In 1996, the Department of Defense announced that for years the SOA used training manuals which advocated the use of torture, execution, false imprisonment, and extortion. In fact, more than 500 SOA graduates have been implicated in human rights abuses. Facing intense opposition in the U.S., the SOA is now practicing here what it has exported to Latin America for years.
Last November, 60 I people from across the U.S. walked on the grounds of Fort Benning, Georgian, home of the SOA, to commemorate the 8th anniversary of the massacre of 6 Jesuit priests and 2 women co-workers by Salvadoran soldiers trained at the SOA. Two by two, in a silent liturgical procession, they carried hundreds of thousands of signatures on petitions demanding closure of the SOA. All 601 petitioners were arrested!
In an attempt to silence this grassroots movement, 25 "repeat offenders" were targeted. They were given a 6 month prison sentence and $3,000 fine. Among them are priests, nuns, ministers, veterans, nurses, teachers and Catholic Workers living with the poor-the same professions targeted by SOA graduates in Latin America.
It is outrageous that practically none of the SOA graduates responsible for human rights atrocities throughout Latin America, including the massacre of entire villages, have ever served a single day in prison. Yet, those who protest this injustice are prosecuted and given maximum jail terms.
We are gathered here today to educate other U.S. taxpayers on this important issue. To let them know that millions of their tax dollars will again be used this year to train assassins from Latin America. Also, during the next few days. we will visit our Senators and Representatives to tell them that we are outraged over this issue and we will encourage them to vote in support of HR 6 I I and S 980 to close the School of Assassins!
"This is not a school but a scandal. It is a training ground for dictators and thugs."
U.S. Representative. Carol Maloney (D-NY)
"These who have a voice must speak for the voiceless!" - -
Archbishop Oscar Romero
$$$$$$$$$$$$$$$$$$$$$$$
DID YOU KNOW THAT MILLIONS OF YOUR TAX DOLLARS
ARE USED EACH YEAR TO TRAI N LATI N AM ERICAN
SOLDI ERS I N DEADLY COMBAT SKI LLS AT TH E
U.S. ARMY SCHOOL OF THE AMERICAS?
$$$$$$$$$$$$$$$$$$$$$$$
Over two-thirds of those cited in a U.N. Truth Commission Report on El Salvador for the worst humsn rights abuses during that country's brutal civil war were SOA graduates, including
=> 2 of 3 cited for the Assassination of Archbishop Romero,
=> 3 of 5 cited for the rape and murder of 4 U.S. church women,
=>19 of 26 cited for the assassination of 6 Jesuit priests,
=> 10 of 12 cited for the massacres of more than 900 civilians at El Mazote,
=>124 of 247 Colombian officers cited for war crimes by an International human rights tribunal were trained at the SOA,
=> Columbia has sent more soldiers to be trtained at the SOA than any other Latin American country, comprising 20% of all soldiers trained there?

"An institution so clearly out of tune with American values and so stubbornly immune to reform should be shut down without further delay!" -- New York Times, editorial.
CONTACT CONGRESS!!
Urge your Senator & Representative to Support S 980 & HR 611
TO CLOSE THE SCHOOL OF ASSASSINS!
THE TRUTH SHALL NOT BE SILENCED
BACK TO CALENDAR * PEACE PARK * OTHER ACTIONS
---