PRESS RELEASE
PUERTO RICAN ENVIRONMENTALISTS AT WASH., D.C.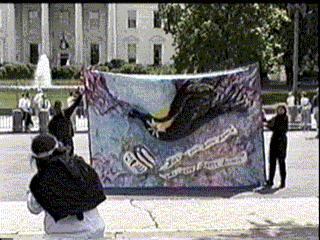 The Puerto Rican environmental group and movement,-FRENTE SIERRA BERMEJA- will have a symbolic event on Earth Day, Wednesday, April 22,1998, in Washington D.C., The purpose of the event is to request an audition-meeting with the President of the United States, Bill Clinton and/or with the Vice President, Al Gore. The founder and director of FRENTE SIERRA BERMEJA, Celia Rodriguez will be requesting the meeting, in representation of the group's 3,000 collaborators and of the Puerto Rican people. A mural painting, 11 x 8 ft., will be displayed, which portrays a Puerto Rican bird,- the Yellow- Shouldered Blackbird- that is near extinction, flying through an apocalyptical sky. The bird is carrying in its beak a golden cord that holds a shield ,- which has a crown with a cross at the top, and is divided in two halves,- one side represents the environment, and the other side has the Puerto Rican flag. From the shield two ribbon-banners emerge, that carry the message; 'Bill, save Sierra Bermeja', 'Al, save Sierra Bermeja'.
Celia Rodriguez will request the following petition to Bill Clinton and Al Gore; that the two chains of mountains of Sierra Bermeja and the lands to the south be acquired- and a reserve be established; the Reserve of our Natural and Cultural Heritage. Sierra Bermeja is on the southwest coast of Puerto Rico, by the Caribbean Sea, and is the oldest geological formation on the island. It is the critical habitat of the Yellow-Shouldered Blackbird and of other species that are near extinction and exist only in Puerto Rico. Plants that are new to science have been recently discovered; and the lands also hold important pre-Columbian archaeological findings. These lands are under the jurisdiction of the Puerto Rico Coastal Management Program, a Federal program that was established in Puerto Rico in 1978, but has never been implemented. The Puerto Rican Government has received millions of dollars from the Federal Government, but has been and is responsible for it's violation. The rights of the Puerto Rican people have been violated.
Now is the time to save Sierra Bermeja and all which it holds, not only for the Puerto Rican people, but also for humanity. At the symbolic event of FRENTE SIERRA BERMEJA, at Washington D.C.; Celia Rodriguez --- will be fasting, and waiting,- by the mural painting-. until she is received by the President Bill Clinton and/or the Vice President Al Gore.
FRENTE SIERRA BERMEJA
TEL. 773 871 4975

BACK TO CALENDAR * PEACE PARK * OTHER ACTIONS
---