FAST FOR JUSTICE IN GUATEMALA, 1998
IN FRONT OF THE WHITE HOUSE
BEGINS APRIL 14 AND ENDS UNTIL OUR VOICES ARE HEARD
GRANT PERMANENT RESIDENCY TO GUATEMALAN AND
SALVADORAN REFUGEES IN THE ABC CLASS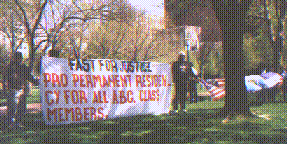 IN THE 80'S, The U.S. SENT BILLIONS OF DOLLARS TO BACK CENTRAL AMERICAN ARMIES CHARGED WITH THOUSANDS OF HI/MAN RIGHTS VIOLATIONS AND KILLINGS. REFUGEES FROM EL SALVADOR AND GUATEMALA FLED TO THE U. S.
THE IMMIGRATION AND NATURALIZATION SERVICE (INS) DENIED A FAIR TRIAL TO REFUGEES SEEKING POLITICAL ASYLUM.
IN 1990, THE BUSH ADMINISTRATION GRANTED TEMPORARY PROTECTION STATUS (TPS) TO SALVADORANS WHO FLED TURMOIL AND CIVIL WAR IN THEIR COUNTRY. THESE SALVADORANS HAVE BEEN IN THE U.S. SINCE THE EARLY 80's.
IN NOV. 1990, THE AMERICAN BAPTIST CHURCH ENTERED INTO A SETTLEMENT WITH THE U.S. INS TO RE-OPEN THE ASYLUM PROCESS FOR SALVADORANS AND GUATEMALANS WHO WERE IN THE U. S. AT THAT TIME.
IPS TO SALVADORANS IS EXTENDED BY REPUBLICAN AND DEMOCRAT ADMINISTER ATIONS. OVER 200,000 SALVADORANS AND GUATEMALANS PRESENTED ASYLUM CLAIMS. THE U.S. IMMIGRATION INITIATED INTERVIEWS IN APRIL 7, 1997.
THE U.S. WANTS TO DEPORT REFUGEES FOR THE FIRST TIME IN ITS HISTORY SALVADORANS AND GUATEMALANS REFUGEES PROTECTED UNDER THE ABC SETTLEMENT ARE AUTHORIZED RESIDENTS WHO PAY TAXES AND HAVE U. S. CHILDREN. THEY ARE WILLING TO PAY FOR ADMINISTRATIVE COSTS RELATED TO THE ADJUSTMENT TO THEIR IMMIGRATION STATUS.
THE DEMAND FOR PERMANENT RESIDENCY IS ONLY FOR THOSE SALVADORANS AND GUATEMALANS WHO SOUGHT SAFE HAVEN DURING THE CIVIL WAR AND WHO ARE PROTECTED UNDER THE ABC AGREEMENT.
SALVADORANS AND GUATEMALANS IN THE ABC CLASS ARE IN THE U.S. AND HAVE TEMPORARY DOCUMENTS. DO NOT REVERSE THEIR STATUS TO UNDOCUMENTED. THE SYSTEM HAS SPACE FOR A HUMANITARIAN AND PERMANENT SOLUTION.
THE U.S. SHALL NOT VICTIMIZE ABC CLASS MEMBERS ONCE AGAIN. THESE REFUGEES ARE THE LAST VICTIMS OF THE COLD WAR IN THE AMERICAS.
---
Peace Park * Personalities