Media Advisory
Salvadorans and Guatemalans from California and Texas Arrive for
a Fast in Front of the White House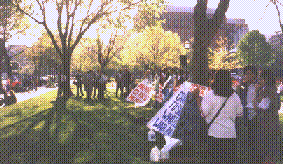 A group of Salvadorans and Guatemalans who arrived to the U.S. during the 1980's and applied for political asylum under the ABC settlement are in Washington, D.C. to begin a fast in front of the White House. This action is undertaken to coincide with the scheduled asylum interviews that the Immigration and Naturalization Service INS) will be conducting for ABC class members.
The Fast will begin on Monday, April 14" and it will last until the first 100 ABC cases have been reviewed to see how many applicants receive asylum or are ordered deported.
These ABC applicants want to publicly express their concern about the potential rate of applications that may be denied. During the 1980's, the INS rejected 98% of the asylum applications presented by Salvadorans and Guatemalans. refugee advocates then sued the INS, and the ABC settlement was reached. Now, Salvadoran and Guatemalans under the ABC settlement have established roots and families in the U.S. and would like to see a humanitarian solution that will consider not only the circumstances that led them to leave their country but also their long-term presence in the U.S. Many of them have U.S-born children that may be expatriated if their parents are forced to leave the country.
The Salvadorans and Guatemalans in the ABC class, estimated at 260,000, are those who fled their countries in the years of brutal civil war and rampant human rights violations. They have temporary permits to work and live in the U.S. while waiting for resolution to their asylum claims.
Their exile and present situation was fueled by the U.S. policy in Central America during the 1980's. U.S. policy denied that both the Salvadoran and Guatemalan governments allowed human right abuses and gave free reign to their armies which harbored death squads to eliminate their opposition. To conform to U.S. foreign policy, the INS disregarded refugee laws and rejected most applications from Salvadorans and Guatemalans.
The ABC applicants include young people who grew up in this country and their place of origin is now alien to their way of life. The U.S. Justice Department and the Clinton Administration have a unique opportunity to make justice for this group. It is a tradition of the U.S. to provide safe haven to victims of persecution. ABC class members are already a part of their U.S. communities, pay taxes and do not qualify for any public assistance. Permanent residence should be granted to this class of people to correct failures of past U.S. policy in their countries.
In the 1980's, a national network of churches provided sanctuary to Salvadorans and Guatemalans as a way to oppose U.S. policies in those countries and to seek refugee status for people who were in the U.S. Some have expressed interest in becoming involved to prevent deportation of those whose asylum claim are not approved by the INS.
---
Peace Park * Personalities