We Remember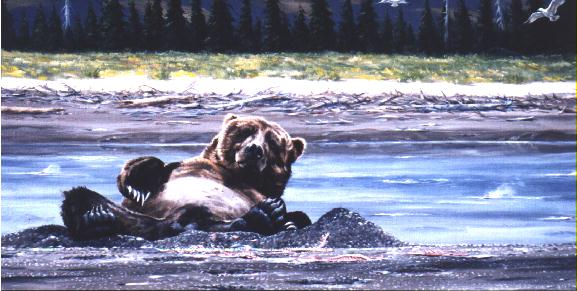 John Steel
Wildlife Artist
Vietnam War Combat Artist
Skindiver, Hunter, Fisherman, "Marine"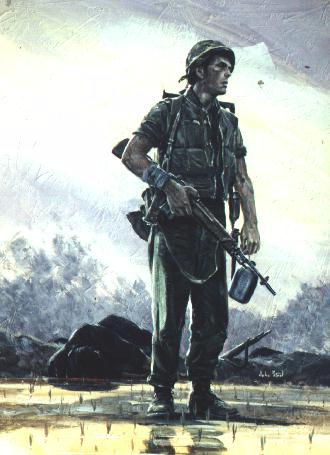 June 14, 1921 to August 9, 1998
Santa Rosa Press Democrat August 23, 1998
STEEL, John W., a 27 year resident of Santa Rosa and celebrated fine artist, died August 9, 1998 at home following a long illness at the age of 77. Born in New York City in 1921, and raised in France and Spain, John became fluent in French and Spanish before returning to the United States as a teenager.
From a family of accomplished singers and actors, he performed briefly on Broadway as one of the Dead End Kids as a young boy, also occasionally singing on the radio. An avid hunter and fisherman even as a young man, John attended a private school in Florida, where he had the enviable task of catching enough Bass each week to feed the entire student body and faculty for Friday's dinner.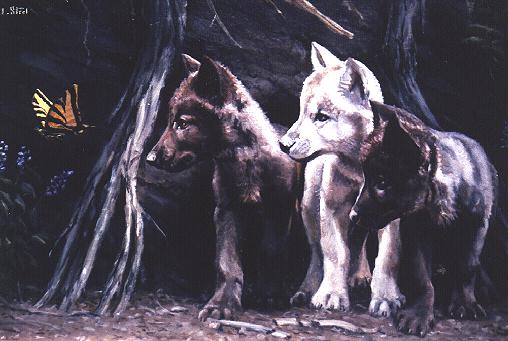 His early art training was taken at the Art Students League in New York City and the Art Center School in Los Angeles. He was fond of telling a story about one of his early teachers at Art Center, who told him he should quit art and open a hamburger stand.
At the start of his career one of his early design efforts was to work on the Matterhorn and Western Village in Disneyland, as well as other Disney projects. He also designed and drew the storyboards for movies Ben Hur, Spartacus and Mutiny on the Bounty. He also did design and drafting work for Northrop Aviation.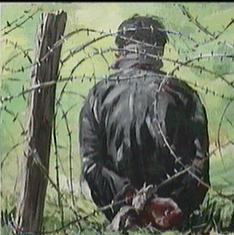 A real patriot and true American hero, he was a distinguished veteran of three wars, serving a brief stint as a Signalman in the Coast Guard, and then transferring into the Marine Corps. John fought in World War II, where he saw action on Guadalcanal, among other places. He also served during the Korean Conflict, where he was one of the Chosun Frozen. When the Vietnam War started, he accepted invitational orders to serve with the Marine Corps as a Combat Photographer and Artist, serving for 5 tours of duty. He produced thousands of photographs and sketches for the Department of Defense, which have been published in numerous books, and are on display in Washington, D.C. His military decorations include the Bronze Star, the Navy Cross, and three Purple Hearts. He was a lifetime member of the Marine Corps Combat Correspondants Association, Joe Rosenthal Chapter, in San Francisco.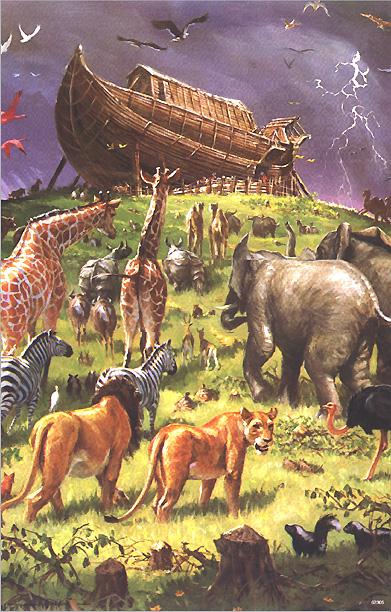 During the 60's and 70's he painted hundreds of illustrations for the covers of Revell and Monogram model companies, in addition to working for Skin Diver Magazine as the cover illustrator and a contributing writer. John worked extensively with Pacific Press, Scripture Press, and the Southern Baptist Convention on hundreds of religious illustrations that are still being used, such as the Bible Stories series and Uncle Arthur's Bedtime Stories.
In his later career, he turned to his passion for wildlife fine art and has had many limited edition prints published. A prolific artist, John happily spent countless hours in the studio at his home, often working from dawn 'til dusk, 7 days a week, when not traveling the world to research the subject matter for his paintings. His work has been exhibited nationwide at many galleries, including Wild Wings, and may currently be seen at Christopher Queen Gallery in Duncan's Mills (California).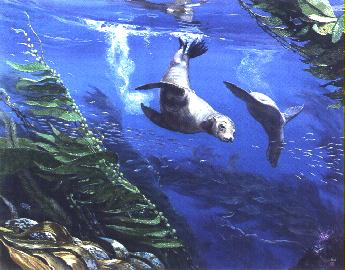 A man of many talents and interests, he was an avid hunter, fly fisherman, early diving pioneer, underwater photographer, published author, celebrated wildlife artist, as well as a black belt in Judo.
He is survived by his wife Carole, his daughters Ellen Thomas and Becky Chatham, his son Scott Summers, and his grandchildren Katy, David, Brian, Katherine, Matthew, Sterling, Christian, Heidi, and Gretchen.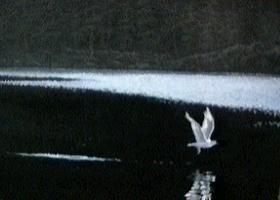 He will be deeply missed by all of his many friends and family.
By John Steel - Family - Friends