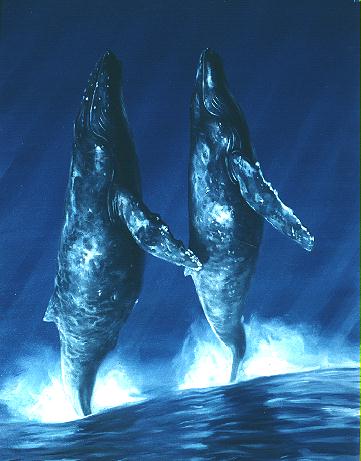 Chapter from Book published in 1988:
Diving Pioneers: John Steel
by Eric Hanauer
Divers of the pioneer era may not recognize the name John Steel. But they will remember his paintings: on the covers of Skin Diver Magazine, in advertisements for Voit and Swimaster, on boxes of dive equipment, and on the covers of magazines like Westways and Outdoor Life. Steel was the first widely published underwater artist. His striking paintings of underwater scenes delineate the early period of diving history.
Unlike artists who are only casual divers, Steel's work vividly attests to countless hours spent underwater, especially in the kelp forests of California. No other artist has captured the essence of California diving like John Steel: the angle of the kelp leaning in the current, the muted quality of light filtering through the canopy, the feeling of depth and space, the forced perspective and natural action postures of man and fish. Now 72 years old, he is still an active diver, traveling six to eight weeks a year to exotic destinations like Fiji, the Red Sea and Papua New Guinea.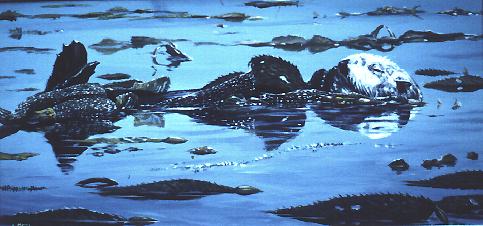 All of Steel's early diving art is in the hands of collectors. In the past 20 years he has turned his talents to wildlife, from Alaskan bears and elk to African lions and Indian tigers. His limited edition prints and paintings are displayed in galleries throughout the country bringing up to $6,000. He still occasionally paints underwater wildlife, concentrating on sharks, whales, and sea otters. An accomplished photographer, Steel's paintings are based on his own photographs, both terrestrial and underwater. For whales and white sharks, he has used the work of Flip Nicklin and Al Giddings.
Steel was always interested in art, but made no serious attempt to pursue it professionally until World War II. Serving in the Pacific Theatre, he was on the island of Pelelieu in Palau, site of one of the bloodiest battles of the war. There he met combat artist Kerr Eby of Life Magazine, and showed him some of the sketches he had done. Many were of dead enemy soldiers. The artist encouraged John to send them to Leatherneck, the Marine Corps magazine. "They sent me about 70 pounds of equipment, and wanted me to send more sketches. But my commanding officer said I couldn't be released from my assignment. I didn't want to carry all that stuff around, so I left it in somewhere in the Pacific."
To this day, Steel refuses to talk much about his military experiences. He served in three wars: World War II, Korea, and Viet Nam, the latter as a combat artist and photographer. He was wounded in two of them, and carries a metal plate in his jaw along with two Purple Hearts.
After being discharged from the service in 1946, Steel enrolled in Pasadena's Art Center on the GI Bill. An avid swimmer since his youth, he was immediately attracted to the ocean. He bought his first faceplate on the Redondo dock, along with a spear with a detachable head. When he speared a halibut in five feet of water on his first free dive, John decided this would be a good way to cut down on family grocery bills for his wife and infant daughter. "What the government. gave us to live on wasn't quite enough, so in order to get food I started diving for abalone. I ate abalone every day for two years. I finally became allergic to them so I started trading them for hamburgers...Today I can't be in the same room with an abalone. My wife prepares them now, I just get them for friends.
"I never graduated from art school, because of an argument with the president's girlfriend, who taught painting. She told me I wasn't capable and ought to open a hamburger stand." Instead of heeding that advice, John went to work for North American Aviation as a technical illustrator. "I started back in
night school, and worked at home every night, every weekend, every sick leave and every holiday, practicing drawing and painting. Free diving was my first love. So I did four underwater paintings of guys in eel grass, getting abs and lobsters and stuff. I took them over to Voit Rubber and they bought all of them. Paid me a hundred bucks apiece and I thought that was a lot of money."
In the course of his diving activities, Steel met Chuck Blakeslee and Jim Auxier, who had recently started a magazine called The Skin Diver. Most illustrations in the magazine were topside photos of divers posing with fish they had killed. Underwater photography was still in its infancy, and couldn't capture the scope and the beauty of the underwater world. That would require an painter who combined diving experience with artistic skill. "My first Skin Diver cover was a picture that Ron Church had taken of Mel Fisher using a rebreather. I speared a cabezon, and put it on the edge of my drawing board. I painted the fish and put Mel in the background. His spear was pointing directly at the viewer."
Editor Jim Auxier described the painting this way: "Undersea artist John Steel repeats his excellent June cover painting this month with another outstanding scene...a mechanized diver stalking a Cabezone (sic) in a kelp forest off Palos Verdes, Calif. The master-brushman has included in this one painting action, life, marine animals to scale and undersea beauty as only a diver can see it." Actually, the painting described was Steel's second cover. The first, Skin Diver's first full-color cover, came a month earlier in June 1955: a free diver spearing a moray eel. This was four years after the magazine had made its debut.
Steel recalls one early dive with associate editor Chuck Blakeslee. "We were diving at the Portuguese Bend Club, Palos Verdes. We looked under this one big rock, and about 10 feet back inside you could see a bunch of black and orange legs. Chuck told me to get my spear. He stuck it in butt end first and rattled it around in there. We went back to the surface and watched. Pretty soon seven bugs, all of them over ten pounds, came walking out. We just kept going down, bringing them up, and throwing them in the boat."
Another diving buddy of this era was Ron Church, who was establishing himself as one of the first great underwater photographers. "He used to pose for me for covers. One time he shot a white sea bass. I did some sketches from memory, then I got him to come over and pose and stuck the fish on myself."
Eventually, Steel turned his own attention from hunting to photography. "I speared some kind of bass. Another fish that looked just like the one I speared kept following my tube with the stringer on it. It was probably the mate of the one I killed. That was when I decided to quit spearfishing."
Like many of the early divers, Steel began using scuba almost reluctantly. "I made friends with Voit public affairs director Herb Larson, after doing some freelance work for them. He gave me a tank and a regulator. Mel Fisher had a compressor, so I got my air fills there. I never took a course but had read a lot of Jacques Cousteau stuff and knew enough to be careful. I never went very deep, but always preferred free diving. It's not because I was chicken, but I like to do everything on a breath of air. I didn't like wearing all that gear around me."
Steel was still a technical illustrator at North American. When they discovered he was selling paintings on the outside. they transferred him to the company's commercial art group. He was assigned to do most of the public relations art for the Strategic Air Command. "They sent me to Colorado Springs, had me do paintings of pilots running to the airplanes, stuff like that.
"I was also doing stuff for Voit and Swimaster...like Johnny McCarroll bringing up a big turtle." Skin Diver covers brought $200 each, which was big money in those days. He also did covers for Westways, the Auto Club magazine which paid only $150 despite a much larger circulation.
A typical painting would begin with sketches, which he submitted to the editor for approval. Then he would get a friend to pose, shoot photos of him, and combine that with backgrounds from underwater photos that he had taken. Nearly all the human figures were posed on land, a surprising fact considering the realistic action and perspective that typify Steel's work of that era. "A typical painting would be a combination of very many things. It would start out in my head before I got down to painting by the numbers. It would be about 40 hours of work, just painting, spread out over some three to six days, depending on subject matter. I worked in gouache (a water based paint) or in casein (which is milk based). l work mostly in oils now, and also some acrylics."
Steel got into exotic dive travel in the early 60s, long before it became fashionable. Garrett Airesearch hired him to paint calendars, and would send him to a different place each year, including Australia, Tahiti, and even Viet Nam. "In 1962,I was staying on Bora Bora with a family of Tahitians. I'd go out fishing with the husband. First we would get a plant they called whiskey; it looked like sugar cane. We would twist it so the juice would come out, let the tide wash it into coral holes, and all these lobsters would march out drunker than hell. We would just pick them up and throw them in the outrigger."
Steel's last Skin Diver covers were published in 1966, when he returned to Viet Nam, this time as a combat photographer and artist with the Marine Corps. By the time he came back, the magazine had changed editors and was featuring underwater photography instead of paintings on the covers. "Afterward, (art director) Art Smith tried to get me in there, but...I was getting $1000 to $1500 from other outfits." These included Outdoor Life, Random House Books, Disney, calendar companies, and Revelle models.
"When I turned 65 in 1981,1 decided to paint what I wanted to paint, got out of illustration and into fine art. I love to paint animals and underwater scenes. I used to shoot photographs before elk and deer hunting season in Wyoming and California. By the time I quit illustrating I had quite a file of photographs. So I painted wolves and deer and other animals. Some friends took me to a reserve in Montana, where they keep a wolf pack for scientific study. I've gone to Alaska and shot pictures of Kodiak bears, been to Africa and India shooting lion and tiger pictures." Limited edition prints of these were published by Wild Wings Company, Binson's, and Hadley House Publications. . "I've only got about a half dozen paintings that haven't been sold, except what my wife has kept."
Steel's technique has evolved and matured since the 50s. Then, heroic male figures, clad only in swim suits and fins, were battling the monsters of the deep. His paintings from that era look almost primitive compared with his exquisitely shaded photo realism of today. Yet they remain as artifacts that reflect the macho era of diving, a simpler time before the age of environmental consciousness. Steel's change in subject matter from man as predator to the celebration of wildlife mirrors that of our society.
Despite a coronary bypass four years ago, John is still an active free diver. On doctors' advice, he doesn't scuba dive deeper than 25 feet any more, but he always preferred breath-hold diving anyway. His Santa Rosa, California neighbor, Ron Pavelka (west coast sales representative for Dacor), reports, "He's amazing...very active, walks about four miles a day. He just got back from eight days salmon fishing in Alaska (and) those trips are pretty strenuous. Even though he is 72 years old... John is still a pretty tough cookie.
Pavelka prefers Steel' s contemporary paintings to the older ones. "His old work is very basic compared to what he does now. The man is just a phenomenal painter...and...wildlife photographer."
When asked about his current activities, Steel replied, "I'm not diving locally any more because it's too damn cold and there's too many people. My wife and I take at least two dive trips a year. We've been to Bonaire, the Bahamas, Roatan, San Andreas, off the coast of Nicaragua, the Red Sea, East Africa, Fiji...we've done our share.
"I've been lucky. I know a lot of better artists who haven't been as lucky. I've had nine lives, still got about two left...I'm happily married, got four kids, and live in a beautiful spot. I paint every day and wouldn't trade with anybody I know in the world."