THE WASHINGTON POST, December 15, 1984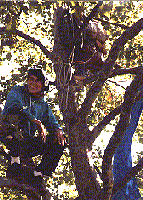 Activist Convicted In Tree Climbing
By Lloyd Grove
Washington Post Staff Writer
Antinuclear activist Ellen Thomas, who spent a week in a tree in front of the White House last October, was acquitted yesterday of illegal camping by U.S. District Judge Louis Oberdorfer.
But the judge convicted her of violating federal regulations against climbing and attaching objects to trees in Lafayette Square. He set sentencing for Jan.24.
In his written verdict, Oberdorfer suggested that Thomas file a motion to "challenge the validity of the regulations." Her lawyer, Stephen Milliken, said he would file such a motion.
"It's what I expected," Thomas said of the verdict.
She stipulated in court that she stayed in the tree from Oct 3 to Oct. 10, and the prosecution called no witnesses in yesterday's nonjury trail. Thomas, the sole witness, testified that she climbed the tree to protest the court-ordered commitment of Casimer Urban Jr., a fellow dissident, to St. Elizabeths Hospital.
After being arrested last July on suspicion of camping in front to the White House, Urban was confined to the hospital for three months, taking powerful medications under court order and being examined by psychiatrists. Thomas said that as a result of her efforts, a lawyer offered to defend Urban for free. Urban was found competent to stand trial and the charges against him were dismissed for lack of evidence in late November.
"I felt I had to do something rather bizarre or spectacular in order to attract some attention to the plight of my friend," Thomas said. Her friend was in the courtroom yesterday.
"You tell some people to go climb a tree - and they do it," Urban said.
---
Yesterday | Legal Overview | Regulations | Ellen Biography