DEAD LITTLE GIRL OF HIROSHIMA
I came and stand at every door but none can hear my silent tread I knock, but remain unseen for I am dead, for I am dead.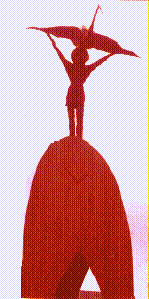 I'm only seven, though I died In Hiroshima long ago I'm seven now as I was then When children die They do not grow old.
I need no fruit, I need no rice I need no food, not even bread I ask for nothing for myself for I am dead, for I am dead.
All that I ask is for peace. You fight today. You fight today So that the children of the world May live and grow and laugh and play.
---
Standing at Ground Zero - Fumiko Amano
---
From:
White House Anti-nuclear Peace Vigil
24 Hours a day Since 1981
Maintained By Two Individuals
C. Picciotto and W. Thomas
P.O. Box 4931
Washington, D.C. 20008
---
Concepcion Information List | Conchita Personal Story
Photographs | The President's Neighbor