WHITE HOUSE
ANTI-NUCLEAR PEACE VIGIL
24 HOURS A DAY
SINCE 1981
MAINTAINED BY TWO INDIVIDUALS
C. PICCIOTTO & W. THOMAS
P.O. BOX 4931
WASHINGTON, D.C. 20008
SURVIVAL
1. EACH AND EVERY MOMENT INTO THE FUTURE IS ONLY 30 MINUTES OR LESS FROM PROBABLE NUCLEAR HOLOCAUST. THIS MAN MADE INSANITY MUST STOP.
2. MISCALCULATION, MISTAKE, ACCIDENT, ARE ONGOING FACTORS OF EVERY ENTERPRISE, MNURPHY'S LAW IS SUPREME IN ALL TECHNOLOGICAL SOCIETIES.
3. ALL GENOCIDAL WEAPONS, DEVICES, CONTRIVANCES, SCENARIOS, PLANS, OPTIONS, WISHES, THOUGHTS, WERE CREATED BY AND BELONG TO EVIL DOERS AND THEIR FOLLOWERS, PRETENDING GOOD INTENT AND REVERENCE FOR LIFE.
4. IF YOU COULD PRESS AN EXTERMINATING RETALIATORY BUTTON, YOU ARE IN THE SAME CATEGORY AS THE WORST OF THE DEPRAVED DEMONIC HUMANS WHO EVER PERPETRATED CARNAGE AGAINST INNOCENT PEOPLE.
CONCERNED SOVEREIGN CITIZENS UNITE FOR SURVIVAL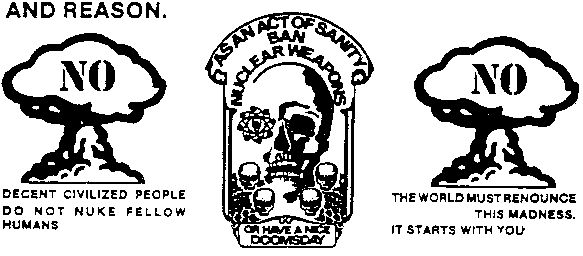 #1 PRIORITY
---
SOME PEOPLE ARE MORALLY UNABLE OF DEFENDING THEMSELVES WITH GENOCIDAL WEAPONS. THEREFORE THEY MUST DEVOTE ALL THEIR ENERGIES TO CREATING A POLITICAL SITUATION WHERE THAT POSSIBILITY CAN NOT EXIST
WE THE PEOPLE ARE THE OBVIOUS VICTIMS...WE HAVE NO A-1 SHELTER ALLOCATION
WE MUST SPEAK WITH ONE VOICE
---
LOVE YOUR COUNTRY - SUSPECT YOUR GOVERNMENT - FIND YOUR COURAGE - FACE THE FACTS - HATE GENOCIDE - IT CAN HAPPEN TO YOU
THAT THE WORLD IS THREATENED EVERY DAY OF LIVES WITH MAN MADE ANNIHILATION IS A DISGRACE TO DECENCY, CILIVILIZATION AND REASON.

NATO
AND
WARSAW PACT COUNTRIES STAND ADTRIDE THE SAME UNCONTOLLABLE WEAPONS PILE. THE WORLD TREMBLES AT ITS FATE. WITH FRIENDS
AND
ASSOCIATES FORM YOUR OWN PROTEST GROUP UNDER THE BANNER OF
- #1 PRIORITY -
WE WILL COME TOGETHER TO TRIUMPH OVER THE GENOCIDALISTS OF THIS WORLD.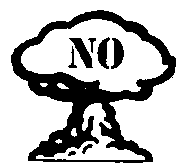 NO NUCLEAR DESTRUCTION OF LIFE
THE FIRST ITEM ON EVERY AGENDA HAS TO BE THE ONE HAPPENING THAT CAN EXTERMINATE US ALL: NOW!
REPRINT IN WHOLE OR PART WITHOUT PERMISSION
MAIL ONE TO A RUSSIAN - TIME IS RUNNUNG OUT - URGENT
#1 PRIORITY
---
Concepcion Information List | Conchita Personal Story
Photographs | The President's Neighbor