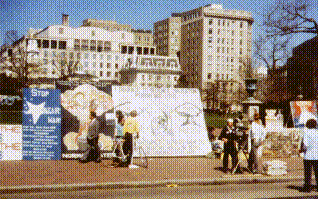 THE WASHINGTON TIMES
August 8,1984
SIGNS TAKING ROOT IN LAFAYETTE PARK
By Charles E. Wheeler
The Washington Times
Dozens of large protest signs have gone up in Lafayette Park since last year's National Park Service regulations restricting demonstrations on the White House sidewalk, and they're getting mixed reviews from locals and tourists.
Many of the signs are almost the size of billboards and most have sturdy, semi-permanent support braces anchored in the park.
"They look horrible," a White House staffer said yesterday.
"My little nieces and nephews came to visit Washington and when they went back to upstate New York that's all they talked about," she said.
Here starts an anti-nuclear 24 hour vigil since June 1981 maintained by Thomas and Concepcion," says a narrow, hand- lettered sign.
More than 100 feet (and 18 signs) later, the row of protest signs erected by "Thomas and Concepcion" ends.
"There are no real restrictions on structures like there are on the sidewalk in front of the White House," said attorney Trish Bangert of the Interior Department, when asked about the size and semi-permanent status of some of the signs in Lafayette Park.
Restrictions apply only if a structure is attached to a tree or disrupts the environment in some other way, she said. All of the protest signs in Lafayette Park are free- standing.
Signs by Thomas and Concepcion account for more than half the total number now resting in Lafayette Park.
They aren't the only protesters, though. A new 12-foot by 12-foot sign was getting a final touch of paint Monday just a few yards from where Thomas and Concepcion have their display.
Most of the signs condemn nuclear war, but one 15-foot-long by 10-foot-high sign says, "God is the Absolute."
A smaller sign says: "Arrest me-I question the validity of the national debt."
The most imposing structure stands 16-feet high, is 12 feet wide and cries out in silver and black paint, "Have a nice Doomsday".
They don't bother me at all," said Sue Eubanks of Fredericksburg, Va. "They're better across the street [in Lafayette Park] so the president can look out the window and see them," she said.
"If they've got time to paint signs, they've got time to get a job and go to work," said as Indiana man who just arrived with his wife for their first visit to the nation's capital.
"That's how we got the money to come to Washington-work," he said.
The signs "should be there, of course," because "its a free country" said a man from New York City.
"Oh, my Lord! They're funny, though," he said.
"There ought to be a better way to do it than littering," said Mike Kuntz, a University of Nebraska student visiting from Lincoln.
"It's just a barrage of senseless words and graffiti across from the White House," said his friend, Joe Frazier, a University of Virginia student from McLean.
The Federal Court of Appeals held a formal hearing July 25 concerning the constitutionality of some of the Park Service regulations restricting signs on the sidewalk directly in front of the White House.
A decision is expected within a month or two, an Interior Department spokesman said.
Protesters maybe able to go back across the street the White House sidewalk if the court rescinds the Park Service regulations. If not, the protest signs in Lafayette Park may continue to grow in number and size.
---
Concepcion Information List | Conchita Personal Story
Photographs | The President's Neighbor