WHITE HOUSE ANTI-NUCLEAR PEACE VIGIL
24 HOURS A DAY
SINCE 1981
MAINTAINED BY TWO INDIVIDUALS:
C. PICCIOTTO & WILLIAM THOMAS
P.O. BOX 4931
WASHINGTON, D.C. 20008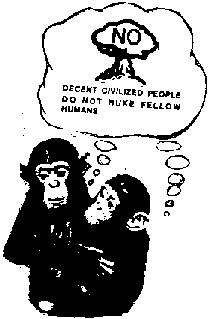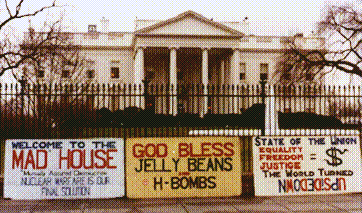 Concepcion and Thomas
Wir habenAngst, die
"Krone der Schpfung" wird
uns mit in den Abgrund reiben
THE UNTOLD STORY
Today in front of the White House (across the street from the White House lies Lafayette Park) two worlds are joined and seperated by Pennsylvania Avenue.
On the South side in the mansion at 1600 Pennsylvania Avenue lives Ronald and Nancy Reagan. Across the street, without address or visible means of support, live a woman and a man known as Concepcion Picciotto and William Thomas [Thomas]. They began their vigil there on June 1st, 1981, and are there till the present.
Mr. and Mrs. Reagan live well housed and well fed. The crumbs from their table feed Concepcion and Thomas for aweek. They live under the stars, exposed to rain and snow, summer and winter, wihtout tent or sleeping bag. They feed like the pidgeons in the Park, on what comes along, sometimes from the McDonald's or Hardees dumpsters.
Mr. Reagan, across the street, isue moral messages against abortion and an Evil Empire, for Freedom, the market and school prayer.
Concepcion and Thomas tend their messages night and day. These messages line the sidewalk facing the White House, signs of all sizes and shapes, in various colors, with drawings of the mushroom cloud or skulls. Angled side by side, the signs stand like some moral maginot line resisting the White House.
"A DISGRACE TO DECENCY, CIVILIZATION, REASON AND LOGIC," says one message, and another "DECENT CIVILIZED PEOPLE DO NOT NUKE FELLOW HUMANS; [and] "LIVE BY THE BOMB....... DIE BY THE BOMB;"
"NATO AND WARSAW PACT COUNTRIES STAND ASTRIDE THE SAME UNCONTROLLABLE WEAPONS PILE. THE WORLD TREMBLES AT ITS FATE;"
"STAY THE COURSE AND THIS WILL HAPPEN TO YOU," says another sign with large Hiroshima and nagasaki bomb explosion victims with radiation burns. "THERE IS NO SHELTER FROM THE NUCLEAR BOMB;" the messages go on and on, extending along the sidewalk by the edge of the Park.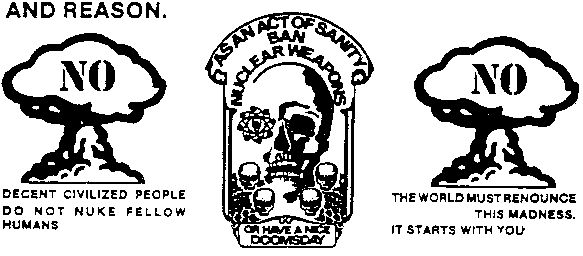 From:
WHITE HOUSE ANTI-NUCLEAR PEACE VIGIL
24 HOURS A DAY
SINCE 1981
MAINTAINED BY TWO INDIVIDUALS:
C. PICCIOTTO & WILLIAM THOMAS
P.O. BOX 4931
WASHINGTON, D.C. 20008
If you want to declare your solidarity, please support the cause of non-violent anti-nuclear activists


NO NUCLEAR DESTRUCTION OF LIFE
---
Concepcion Information List | Conchita Personal Story
Photographs | The President's Neighbor