What price for Freedom
by Concepcion Picciotto
"HELP"
PAY FOR FREE SPEECH
$$$$
White House Peace Vigil

FIRST AMENDMENT TAKES BACKSEAT IN REAGAN'S FRONT YARD!!
--When sleep is made a crime...
--When protecting oneself from the elements is made a crime...
--When total commitment to peace and justice is made a crime...
--When harmless religious practice is made a crime...



If Freedom is a state of mind then all the wealth in the world cannot purchase it. But my personal freedom can be bought for $50.00, check or money order, to the United States Park Police.
For seven years, I have been in front of the White House, day and night, year round, despite rain, snow, freezing cold and fanatical "Peace Through Strength" idealogues, pressuring the government to abandon violence and money in favor of freedom, justice, and equality.
No one pays me for my work.
For some reason, the U.S. Park Police, or their masters, do not like what I am doing. On March 25, at 4 a.m. I was sitting on my milk crate, head bowed in prayerful thought, when a park police officer, M. Berkowitz gave me a ticket for camping.
If I thought there was justice, I wouldn't be concerned, but my friend and colleague William Thomas and four other demonstrators were arrested. William Thomas suffers ninety days in jail because it was 32 degrees and was in a sleeping bag. The court found them guilty of "camping".
I didn't have a sleeping bag and I was wide awake, but it's just my word against the Park Officer's. Forgive me, but when "sleeping" is "camping", I lose confidence in the court's commitment to reason, much less justice, freedom and mercy.
I am not under any payroll for my work of the day-in and day-out year round "ANTINUCLEAR PEACE VIGIL", in an effort to acheive by communication, people to people, from all over the world;
""PEACE ON EARTH THROUGH DISARMAMENT"..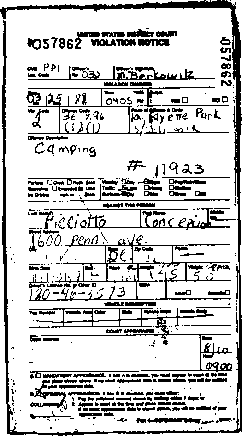 I can avoid a trial by payment of a $50.00 fine. So I appeal to the public and all foreign governments to pay the United States for my LIBERTY!
Not that we all shouldn't trust the Park Police, but they do make mistakes. So I suggest that anyone who responds to this, please keep a receipt of your payment and please give me a copy.
This will insure that the legal guardians are not paid twice for what should be guaranteed "FREE" under the laws of self-respecting democracy.
Signed Concepcion Picciotto

Peace on Earth to All Peoples!
WHITE HOUSE ANTI-NUCLEAR PEACE VIGIL
P.O. Box 4931
WASHINGTON, D.C. 20008

---
Concepcion Information List | Conchita Personal Story
Photographs | The President's Neighbor