SHRINKING FIRST AMENDMENT

---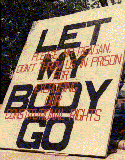 CAMPING

WHITE HOUSE SIDEWALK

LAFAYETTE PARK

3-CUBIC FT.
Since the vigil began in 1981 a series of four bureaucratic regulations have successively criminalized various aspects of constitutionally protected behavior.
The legal precedents effect not just a small band of conspicuous demonstrators, but the most fundamental human rights of every individual from coast to coast.
These regulations can be accessed through the friendly fascist government's resources.