WILPF / Proposition One Campaign Nuclear-Free-Future Tour, 2016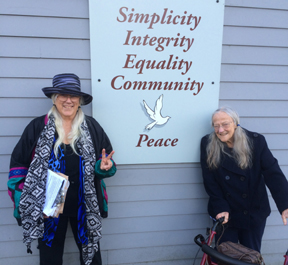 Below are links to photos and contacts from our Nuclear-Free-Future tour so far, starting on the West Coast of the US January 21 to February 21, 2016, continuing on the East Coast April 7 to May 7, 2016, to promote HR-1976 during this election year - the Nuclear Weapons Abolition and Economic and Energy Conversion Act - and to advise WILPF branches and others about international efforts to abolish nuclear weapons.
In her presentations, Carol Urner shared a number of resources, which are linked here.
Next stops: September we plan to go to DC for the World Beyond War-sponsored "No War: 2016" conference, and then we have been invited to speak in Pittsburgh, PA, Ann Arbor and Detroit, MI, Kansas City and St Louis, MO. We hope others will invite us to stop along that very large (3,000 mile) loop so we can share information among each other.
Please contact us with any questions, additions, or corrections:
Ellen Thomas <et@prop1.org>, 202-210-3886
Carol Urner <carol.disarm@gmail.com>, 503-320-9108
---
West Coast Tour
Whittier, CA, January 21, 2016
Los Angeles, CA, January 23, 2016
San Diego, CA, January 24-25, 2016
Ojai and Santa Barbara, CA, January 26-27, 2016
San Luis Obispo, CA, January 27, 2016
Fresno, CA, January 28-29, 2016
Santa Cruz, CA, January 29-31, 2016
San Francisco, CA, February 1-3, 2016
San Jose, Palo Alto, San Mateo CA, February 4-5, 2016
Sacramento, CA, February 6, 2016
Arcata and Eureka, CA, February 8-9, 2016
Ashland, OR, February 10-11, 2016
Corvallis, OR, February 12, 2016
Portland, OR, February 13-14 and 21, 2016
Bothell, WA and Lacey, WA, February 16-17, 2016
Ground Zero Center and Seattle Veterans for Peace, February 18-20, 2016
East Coast Tour
Chapel Hill, NC, April 13, 2016
Woodbridge, VA, April 14, 2016
Washington, DC, April 17-24, 2016
Cape Cod, MA, April 25-26, 2016
New Haven, CT, April 28-29, 2016
New York City, NY, April 30-May 3, 2016

Here are some links from the tour:
West Coast:
"Gaining allies for nuclear-free future", WILPF-US February eNews
"A World Without Nuclear Weapons" – Community TV interview with Carol and Ellen in Santa Cruz – January 30, 2016 OR
"Nuclear-Free Future tour", WILPF-US March eNews
East Coast:
Carol Urner speaking in Columbus, NC April 7, 2016
Introduction by Coleman Smith and Clare Hanrahan, New South Network of War Resisters, in Asheville, NC, April 11, 2016, including their great powerpoint, "Atomic Appalachia"
Ellen Thomasr in Asheville, NC, April 11, 2016, introducing HR-1976 and Carol Urner
Carol Urner in Asheville, NC, April 11, 2016, going over the Resource List
From Coast to Coast: The Nuclear Free Future Tour - Peace and Freedom, Spring/Summer 2016, page 12-13