TIBET
---
HI S T O R Y
Tibet was a distinct nation and maintained its own government, religion, language, laws and customs. Over the centuries, some countries, including China, Britain, and Mongolia have sought to exert control over Tibet, with periodic and partial success. International legal scholars agree that, from 1911 until the Chinese invasion in 1949, Tibet was a fully independent state by modern standards. Since then, Tibetans have struggled to regain their freedom and keep their culture intact.
---
S I Z E
Historical Tibet is a vast nation, whose area is roughly equal to all of Western Europe combined.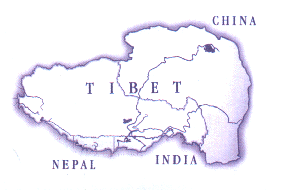 ---
RELIGION
Tibet fully embraced Buddhism in the 8th century A.D. Since then, a paramount objective of Tibetan culture has been the cultivation of a good heart and a calm, clear mind.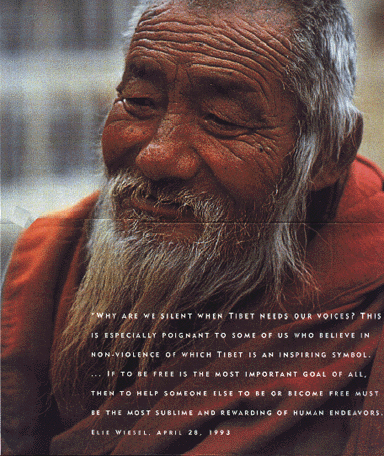 In the wake of China's occupation, Tibetan Buddhism became a principal target for communist reforms. All but a a handful of Tibet's 6,000 monastaries were desecrated and destroyed. By 1969, not a single practicing monk or nun remained in Tibet. Today, China's Communist Party permits some practice of religion, but controls and severely restricts Tibet's monastaries and nunneries. Photos of the Dalai Lama, objects of veneration and hope for millions of Tibetans, are forbidden, and active supporters are imprisoned.
---
ENVIRONMENT
With an average elevation of 14,000 feet, Tibet is literally the highest nation on earth.
Five of Asia's greatest rivers including the Indus, Mekong, and Brahmaputra have their headwaters in Tibet. Nearly half the world's population lives downstream from Tibet!
Tibet's high plains, forests and mountains form a unique ecosystem on the planet and are home to an array of wildlife, including the snow leopard, blue sheep, and Tibetan wild ass. This ecosystem, and many of its species are now endangered.
---
TIBET CAN BE SAVED


What you can do to help tibet.
---
Here's how in four easy steps
1. Send postcards
This is most important. The Americam people must speak out on Tibet to ensure that our government follows suit. One postcard [should be] addressed to President Bill Clinton, The White House ,1600 Pennsylvania Ave., Washington, D.C. 20500, who met recently with the Dalai Lama and has expressed concern for the plight of the Tibetan people. Let him know you care too, and that you are counting on him to speak on your behalf! Another postcard should be sent to China's President Jiang Zemin c/o Embassy of the People's Republic of China, 2300 Connecticut Ave., Washington, D.C. 20008, who can no longer ignore the rising tide of public opinion.
2.Support your local group
There are hundreds of local grops supporting Tibetans worldwide. They educaate, organize and raise awareness aboout Tibet at the community level. They sponsor cultural events, speakers, and provide assisstance to Tibetan refugees, some of whom may live in your community, call the International Campaign for Tibet at: 202-785-1515
3.Join the International Campaign for Tibet (ICT)
Established in 1988, ICT works worldwide to advocate for Tibetan human rights, self-determination and cultural survival. ICT is the pricipal voice for Tibet in Washington, and also sponsors national special events and activities. ICT members receive Tibet Press Watch, a newsletter that covers important events and activities worldwide. You can receive more information and/or join today by sending a postcard to:The International Campaign for Tibet
1825 K St. NW, Suite 520
Washington, D.C. 20006
4.Go Online
Visit the new Tibet 2000 website at www.savetibet.org. There you will find the breaking news, e-mail action alerts, and other items of interest. When you visit, be sure to join the Campaign for Tibet's E-MAIL ALERT NETWORK.
Send E-MAIL NOW!:
President Clinton: www.president@whitehouse.gov
The International Campaign for Tibet: www.savetibet.org
---
YOU CAN HELP TIBET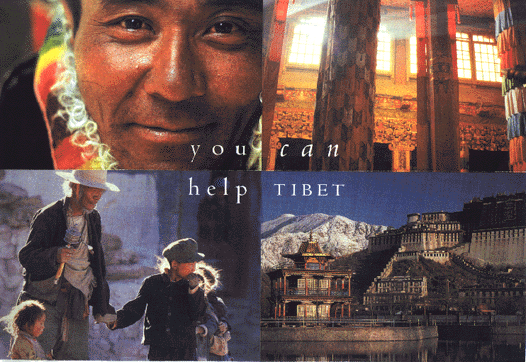 BUT THE STORY'S NOT OVER, AND YOU CAN MAKE A DIFFERENCE.
It's Not too late.
TIBET'S SPIRITUAL CORE HAS BEEN A SOURCE OF INDOMITABLE FAITH AND STRENGTH FOR TIBETANS EVERYWHERE, AND AN INSPIRATION FOR ALL OF US.
The Dalai Lama, the leader of the Tibetan nation and people, fled Tibet from Chinese aggression into exile in 1959.
In the tradition of Martin Luther King and Mahatma Ghandi, he has become one of the world's great exponents of non-violence. For this, he has won the admiration of the world and was awarded the Nobel Peace Prize in 1989.
Today the movement to help Tibetans is growing, as public awareness, and public courage builds. World governments are beginning to recognize the atrocities, and to address them. But Tibet is entirely dependent on grass-roots support, anmd we need your help. Please support the Tibtan people by sending the postcards attached to this brochure and joining the movement to save Tibet.
---
The Story
Almost a half century ago, Chinese troops invaded Tibet, Bringing to a sudden and violent end Tibet's centuries-old isolation beyond the Himalayas. Tibet's unique brand of Buddhism formed the core of Tibetan culture and society, a radical contrst to the atheistic and materialist dogma of the Chinese communists.
In the wake of the invasion, the Dalai Lama, Tibet's spiritual and temporal leader, and nearly 100,000 Tibetans fled into exile to India. In the years after, Tibet's remarkable culture and its inhabitants, have been systematically persecuted. Alexander Solzhenitsyn described China's rule in Tibet as "more brutal and inhuman than any other communist regime in the world."
MORE THAN A MILLION TIBETANS HAVE DIED FROM THE CHINESE OCCUPATION - OF TORTURE, STARVATION AND EXECUTION.
MORE THAN 6,000 MONASTARIES AND THEIR CONTENTS, IRREPLACABLE JEWELS OF TIBETAN CULTURE, WERE DESTROYED.
TIBETANS ARE ROUTINELY IMPRISONED AND TORTURED FOR NON-VIOLENTLY EXPRESSING THEIR VIEWS.
FREEDOM OF RELIGION IS SEVERELY CURTAILED.
NUNS ARE BRUTALLY RAPED IN CHINESE PRISONS.
IN RECENT YEARS, CHINA HAS LAUNCHED A "FINAL SOLUTION"- A SYSTEMATIC STATE - SPONSORED MOVEMENT AND ENCOURAGEMENT OF ETHNIC CHINESE INTO TIBETAN TO OVERWHELM AND EXPUNGE THE TIBETAN NATION.
THE STORY'S NOT OVER! INSIDE: FOUR WAYS YOU CAN HELP TIBET
YOUR ACTIONS TODAY CAN MAKE A DIFFERENCE
CAMPAIGN FOR TIBET
Rally in Lafayette Park, October 30, 1997
Compliments of Proposition One Committee