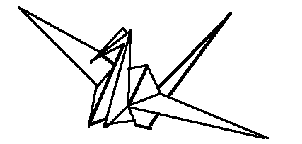 Hiroshima/Nagasaki Peace Committee
of the National Capital Area
c/o Proposition One Committee
P.O. Box 27217 - Washington, DC 20038
Phone: 703-369-7427 | jsteinbach@igc.org
July 10, 2000
Dear Friends:
The Hiroshima/Nagasaki Peace Committee of the National Capital Area is planning the Nineteenth Annual Commemoration of the Atomic Bombings of Hiroshima and Nagasaki. With your support and participation we will again keep alive the memory of Hiroshima and Nagasaki for the sake of Mother Earth and all the children of the world.
As we continue our struggle to abolish nuclear weapons and power, our job remains unfinished.
Did You Know ?
o The U.S. and Russia both maintain "hair trigger and "first use" nuclear policies!
o Approximately 30,000 nuclear weapons still remain to threaten life on earth !
o The Pentagon plans to maintain over 5,000 nuclear weapons for the foreseeable future !
o The proposed anti-ballistic missile "defense" system threatens a new "nuclear arms race" !
o The government is spending 40 billion dollars to upgrade the nuclear weapons complex !
o Thousands of "high level" nuclear waste casks could soon endanger our communities !
The Hiroshima/Nagasaki Peace Committee will continue to actively confront the paramount evil of nuclear weapons until they are abolished forever from the face of the earth.
In addition to the annual Hiroshima Commemoration on August 5 and the Nagasaki Commemoration on August 8 (See calender), We are again hosting and coordinating a delegation of Hibakusha (living survivors of Hiroshima and Nagasaki), who will be visiting 5 states in addition to Washington, DC. Louise and John will represent the Metropolitan Washington area at the World Conference against A & H Bombs in Hiroshima and Nagasaki, Japan. And we are proud to be part of Fellowship of Reconciliation's "People's Campaign for Non-Violence." (See calendar and flyers)

We couldn't organize the annual Remembrance Activities without the time, energy and resources of many individuals. Please contact Louise & John at 703-369-7427, mailing address Earth Lodge, 7615 Lake Drive, Manassas, VA 20111, to help. Please join us in commemorating the atomic bombings of Hiroshima and Nagasaki for the sake of the future.
Yours for a Nuclear-Free World,
Louise Franklin-Ramirez & John Steinbach for the
Hiroshima/Nagasaki Peace Committee of the National Capital Area