SEEDS OF LIFE
---
---
---
---
DEDICATIONS

---
---
---
---
WITHOUT WORDS

by Brenda Wallis
Written because of meeting Elijah early January 2012.

The day was surreal, as I followed my dear friend to the Peace House.
It was my first visit to DC
The cold wind, the buildings, the dog park, the people, the flowers, the trees...
When we got there, we were greeted by a man who was filled with light,
he had no shoes on his feet,
and he wore no coat,
but his smile was kind and warm,
he reminded me,
without words,
we are love.
---
ODE TO LOAVES AND FISHES

Loaves and fishes are feeding the hungry of today
with food that, otherwise, would be thrown away.
With messiah and his brethren having nowhere for a bed
by what other means do you think they are to be fed?

They are sheep who gather as well as those who give
for messiah and his brethren to have sustenance on which to live.
So come here, you blessed sheep, receive your just reward
for being a blessing to others even when times were hard!!!


Written about a homeless feeding place where Elijah ate in Fort Worth, Texas, 1987-88
---
My Editor

I already had my writings online
of concepts grasped by so few,
writings in prose and poetry alike
about the things I felt were true.

I passed my card to cameraman
who I caught as they took a shot
and was told by a reader of them
that flowing, my writing were not.

She offered and did edit my work,
working steadily for many a week,
and now that it is said and done
my editor is the Frenchman, Janick!

Written for Janick's 2009 Birthday in recognizing her
diligent service to this presentation of SEEDS OF LIFE.
---
EDUCATION VERSUS SCHOOL


Students are sent to SCHOOL for an EDUCATION,
they are sent there for cultivation into a civilization,
but are they getting from the institutions that for which they were sent
or are they being schooled to follow the dictate of the government?

When you came to the institution of higher learning, college,
did you come for an education or to ready yourself for the market?
Did you come to prepare yourself for a job or career
such as teacher, engineer, or pilot boats, planes, or a rocket?

If you came to be schooled, readied for a career or job,
what you sought is what you got, schooled to follow the mob.
If you came to be educated, to be taught the two sides of a thing,
when to indulge and when not, you missed the consequences they bring.

To be educated is to draw into consciousness that which is within,
to cause one to see both sides and their joining point which is thin.
To school is to cause the masses to follow a certain trend,
to indulge in one half and abstain from the other, as it has been.

Now that your schooling is through are you satisfied with what you got?
If you realize you are not educated, the institution has served you well,
it prepared you only to follow, to use your mind it did not.
You may now begin your education, for the truth of life it will tell!

Written to Grambling State University's Spring Graduating class of 1989
---
RIDE THE WIND

High Schooling is completed
And college looms ahead,
After schooling is work
Some man come to dread.

Schooled to earn a living,
For most, it's a must,
Unless in a divine one
A person learns to trust.

Now you know the choices
Are school, work or god's child,
And either one you may choose
Ride the wind in grand style!
Written for Sarah Hartshorne's Charlemont Academy graduation, June 4, 2005, Charlemont, MA
---
---
---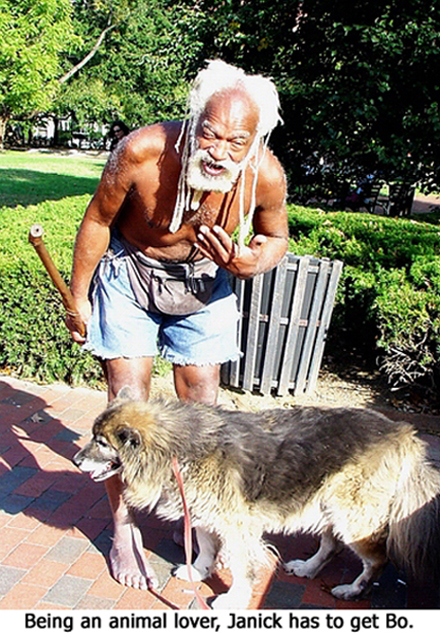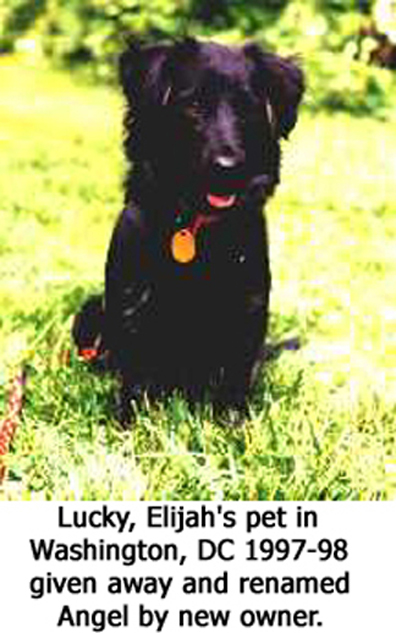 ---
---
---
A SONG OF THE FLOWER
Lafayette Park has many a girl passing by
with shape, look and dressed to catch a boy's eye.
I look them all over and will often speak
in friendliness, not for any mate I seek.

One I observed, I will call her flower,
passing several days about the same hour
looking like someone I have known before,
so it became my objective, "she I will know."

She passed close one day so I spoke of her likeness
and, in my eye, she is everything that's rightness;
like "A Rose In Spanish Harlem" written in a song
which someone wanted to transplant for them to own.

I'm not one who judges anything , usually,
since beauty and ugly are in all things I see,
but try as I did there was nothing in her to mar
so my limited judgment name her the "Flor Bonita."
Written to a friendly girl who spoke to him daily during 1997-98 in Lafayette Park, Washington, DC.
---
WHEN SPIRITS MEET

At the perfect moment
in the sunniest of parks
the unlikeliest of gentlemen
found my hidden heart.

The poorest of the poor he seemed
and me in my silky dress,
but the richest smile played in his eyes
which put me to the test.

Can I stand beneath the colors
of the stranger in the street,
do I know we're all the same
when spirits meet?

He taught a simple lesson
that life is what it seems,
we spend our time regretting
and chasing after dreams.

Then he held me close to him
and walked away alone.
His wisdom is the love of life
and I must find my own.

I can stand beneath the colors
of the stranger in the streets,
I know we're all the same
when spirits meet!


Written by Ms. Forbes to Elijah summer 1982, New York City
---
THE GRADUATE

You now believe you are educated
After completing anotherís requirement
Although you are now only programmed
To pay the loans for schooling youíve spent.

To edu one brings forth from within oneself
What observation, participation and reason taught
since with opened minds the unknown was entered
which by doing, from within the purpose was brought.

To cate is to have an explainable format
Which the common level of inquisitive minds
May comprehend the reason you have chosen
To live and appear so strange for the times.

To school one obtains from external instructors
To prepare them to follow the established trend
Founded on devil and god, evil and good which
In choosing to deviate, you are said to have sinned.

Now you have finished and know what you have,
Are you pleased with the end you have come to,
Or will you prove or disprove what you are taught
Letting observation, participation and reason show truth to you?


Written to Grambling State University's 2007 Summer Section graduates.
---
WHY EDDIE ROBINSON

From Grambling, Louisiana came a great cry
The morning after the 2007 Passover feast,
A cry which went from coast to coast saying,
All time great Eddie Robinson is deceased.

He was a boy to achieve many a first
Like an un-scored on, no lost football season,
That part of his fame is yet to be matched.
Could his demise of happened for a spiritual reason?

Passover began during the ancient days of Egypt
Killing many firstborn to set the enslaved Israeli free.
This land in spirit is called Sodom and Egypt who
Enslaved Egyptians and Ethiopians in this land of liberty.

A prophet like Moses, of enslaved brethren, is to come
And lead the enslaved away to a promised land.
To be like Moses the death of a firstborn must come
Preceding the decree of liberty to all desiring man!

Can Eddie Robinson be the first born who was killed
Before the prophet like Moses is made known to be,
Before he is lifted up from being of low esteem
Like the fiery serpent for those bitten man to see?


Written after the discarnation of GSU's football coach, Eddie Robinson.
---
---
---
---
The End!
Thank You For Reading SEEDS OF LIFE,
I Hope You Now Understand Your Timeline!
—Elijah Alfred "NatureBoy" Alexander, Junior
---
---
---
---