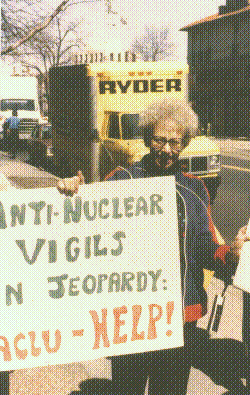 MEMORIAL FOR
WINIFRED GALLANT
D.C. ACTIVIST
SUNDAY, AUGUST 27, 2000, 7:00 P.M.
LAFAYETTE PARK
Contact: Ellen Thomas in D.C., 202-682-4282, prop1@prop1.org, or
Keshav Hunter in New York, 917-312-3749
keshav@keshav-music.com
Winifred Gallant died in the early morning hours of August 23rd at Washington Adventist Hospital, after a lifetime of activism in Washington D.C. and, before 1972, in New York City.
Born Winifred Cornelia Colucci in her mother's New York apartment on May 21, 1918, in the old Italian section of West Village, Ms. Gallant's activism began early. As a young woman near 20, she was a member of the Lindbergh Peace Parade Committee.
In 1938 she was a columnist for a small newspaper in New York, The Gateway. During World War II she worked with the Greek War Relief Association campaign to feed children. She was active in civil rights in the 1960's, and during the Vietnam War, she was a member of the 5th Avenue Peace Parade Committee, which was at the heart of anti-war sentiment in New York City.
In 1968 she launched a consulting business in New York, "Optimum Files." Although the business was doing well in New York City, she moved it to Washington, which from her activist point of view was the "belly of the Beast."
In 1972, after moving to Washington D.C., she supported the Quaker Vigil, a year-long 24-hour-a-day presence on the White House sidewalk against the war. She grieved when the Quaker Vigil was terminated by the police.
In 1984 she adopted the anti-nuclear vigilers who have remained day and night outside the White House since June 3, 1981. For seven years she shared her small efficiency apartment with numerous members of the vigil. An active member of Shiloh Baptist Church for many years, she worked hard to raise the members' awareness about issues surrounding the Savannah River nuclear weapons facility in South Carolina, home towns of many of the Shiloh members. She started "Church-to-Church Action" to help D.C.-area churches reach out to the churches near the Savannah River plant.
After retirement, she continued as a full-time activist. Ready with quips and a big smile, she sought out and stood up for the dispossessed and abused. D.C. Statehood advocates knew Ms. Gallant well, as did gay rights and medical marijuana advocates.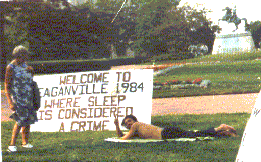 In recent years she was a passionate opponent of the Convention Center, which she believed would mean gentrification, with local people losing their homes and small shops as new businesses came in. Long an advocate against homelessness, she kept her home open to the homeless as well as to political activists from all over the nation when they needed a bath, a meal or to store their possesions.
She is survived by one son, Keshav Hunter, a New York poet and musician.