DIANA NOMAD: POET
---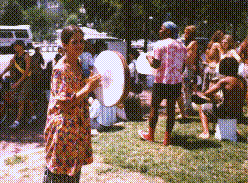 TIME TICKING,
ticking time away ...
from living, breathing, loving
life ... ticking time away --
taking time, taking time away
from day to day, clouds of grey,
rolling 'round my brain --
wondering why I have to stay
and watch this sad
and sorry madness all around --
seeing old growth trees come crashing
to the ground.
Nothing but the sadness
and the pain
of destruction running
through my brain --
Concrete, asphalt-covering Mother Earth,
electric megawatts girdled 'round her gearth,
sucking life blood, oil & water --
scorched and looted --
fouled, polluted --
tainted air & seas.
Only death murmurs in the breeze
when Man destroys the living trees --
trampling, cutting all he sees --
in conquest: progre$$ all around,
scars oozing sickness --
battleground of greed
they rape the Mother Earth --
place a pricetag on her worth --
in log feet, gallons, tons & such --
can't take much more.
It's all too much.
Taking
time
away
ticking
time
away
ticking time
taking time
ticking
taking
time
away
....
BE GONE!
She said, and shook her back.
Tidal waves and earthquakes cracked,
gobbled up cities, crumbling back
to stones once more
back to ocean floors
& creeks & rivers rose & flooded
clean the waste.
Winds shipped the air clear 'round her
face.

For greed the life was over -- spent.
The meek returned and looked
to find the beauty of the harmony
bind all creating everywhere --
again a place beyond compare.

Time ticking
ticking time
taking time
to greet the day
all of Life
comes back to play!


May 12, 1990
Diana Nomad