Ninja Prophet John

---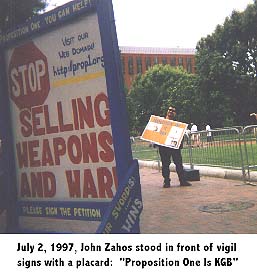 A seemingly friendly fellow descended on the park several years in a row, singing and shouting loudly about Jesus, seeming to like lots of attention. He said "I love you" a lot, but it wasn't very long before his behavior didn't seem too loving. At first he seemed a sincere buffoon. But he was subject to severe mood switches and unkind, paranoid behavior which culminated in his arrest, hospitalization in St. Elizabeth's Hospital, and deportation in 1996.
The Secret Service were tolerant of John when he returned again 1997; it was only when he trashed his landlord's hallways and kicked in his neighbors' doors with religious zeal that he was once agan hospitalized in 1997.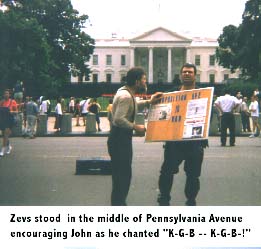 One humorous incident included an old nemesis, Zeus. July 2, 1997, Zeus returned to the park, briefly, after six months' imprisonment for painting swastikas all over town. Ninja Prophet John Zahos was standing in the middle of Pennsylvania Avenue with a placard, "Proposition One is KGB."
Zeus stood in the middle of Pennsylvania Avenue encouraging John in his chant of "K-G-B."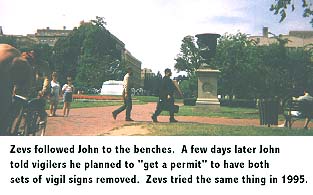 Zeus followed John to the benches. A few days later John told vigilers he planned to "get a permit" to have both sets of vigil signs removed. Zeus had done the same thing in 1995.
---
PRESIDENT'S PARK | PEACE PARK |Proposition One