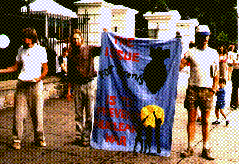 Atlantic Life Community | Catholic Workers | Jonah House:
Swords Into PLOWSHARES
Stop Kosovo Bombing! - May 5, 1999
---
Several times every year, most notably at Easter and at year-end's "Feast of the Innocents," a gathering of faith-based activists comes from all over the country to Washington D.C. to teach and learn about nonviolent civil disobedience, as well as about feeding the hungry and caring for the poor. They call themselves the Atlantic Life Community, but they are drawn from a number of activist religious groups.
Most frequent visitors to the park are the Dorothy Day Catholic Workers, who feed homeless people on the north side of the park every Thursday night, provide emergency housing for mothers and children, and host or teach activists visiting Washington DC. In the tradition of Dorothy Day, founder of the Catholic Worker movement, they practice what they preach, addressing what they see as the roots of the problems of hunger and homelessness and war.
Jonah House (in Baltimore) and Pax Christi (in D.C.) often join the Catholic Workers in bringing young people together for week-long workshops on nonviolent activism, cooking in soup kitchens, volunteering at shelters, studying the Bible and the lives of saintly folk worldwide, and staging prayer vigils for peace, justice, and disarmament.
Despite their absolute nonviolence, often people are arrested during these prayer vigils for simply kneeling on the White House sidewalk.

NONVIOLENT CIVIL DISOBEDIENCE

Nonviolence is a way of life, and a source of considerable debate. The Plowshares activists believe in a life of prayer AND witnessing. Sometimes people go over the White House fence to hang banners in trees, or pour blood and red die in the fountain. Sometimes they splash their own blood on the White House gates, or paint shadow figures on the sidewalk, knowing this will lead to arrest and imprisonment. Some have spent months or years in prison for "Plowshares" actions (pouring their own blood and banging with hammers on missile silos and ships around the world).
Usually Plowshares activists receive very little media attention. Since their civil disobedience is ALWAYS nonviolent, the press don't pay much attention. But the government pays attention. Plowshares activists have received prison terms of up to eighteen years.
Their purpose: to bring their message to powerful and powerless people. Courts must listen, and keep records. And activists in jail continue teaching (and learning). A prime example of how effective jailhouse witnessing can be is the story of Mitch Snyder, who was inspired by Phil Berrigan, and became a phenomenally effective homeless advocate in D.C.
As we first posted this article (April 1998), Phil Berrigan of Jonah House, who has been an inspiration for decades, had just been denied visits as he serves two years in prison. You can learn more about what you can do for Phil, by e-mailing Jonah House: disarmnow@aol.com. Information about all the Plowshares prisoners is also available through the Nuclear Resister, nukeresister@igc.apc.org.

PAST ACTIONS

The Atlantic Life Community was active during Bush's Gulf War. In January 1991, Little Friends for Peace came to drum for disarmament with the Plowshares contingent. The same day, a group of Native American elders brought a Mother Drum from the Ojibwe tribe in Minnesota. The children went home, and a week later so did the Ojibwe drum, but the idea caught on. Other drums continued for the duration of the war, while Catholic Workers made daily trips with food to sustain the dozens of drummers, and the Atlantic Life Community appeared periodically to pray.
A number of people vigiled outside the Sheraton Hotel in Washington DC in late March during the military-industrial Arms Bazaar, passing out thought-provoking literature about the costs of the arms trade, in lives and environment and dollars. For many years people have come in the fall to the Air Force Arms Bazaar. Some go inside the hotel to give speeches and unfurl banners and pray at daily exhibits and the Wednesday night banquet. Each year more people are arrested. For all of these reasons, perhaps it's understandable that when police see the Atlantic Life Community arrive, backup vehicles and horses are usually called in.

What's Happening NOW?

There is a weekly prayer vigil every Friday at noon to end sanctions against Iraq. Since the mid-1980's, there are weekly vigils at 7:30 a.m. every Monday, at the Pentagon metro exit. You're invited! Call Dorothy Day Catholic Workers for more information about the weekly vigils: 202-882-9649.
We will be adding photos and news articles to this site in the near future.
---
Related Cases | Peace Park | CLUES | People

---