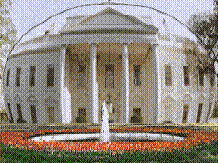 VIGIL URGES POPEMOBILE BUBBLE
FOR THE WHITE HOUSE

---
May 22, 1995

CONTACT: Thomas - (202) 682-4282
P.O. Box 27217, Washington, D.C., 20038
The government is scared. The First Family is in danger. For years the Secret Service has boasted the White House is where the First Family is safest, but now people are blowing things up. Of course, people have been blowing things up for years, but, the Secret Service thinks, that's no reason not to get more scared.
Most unusual, perhaps, was an incident where an unhappy citizen tried to fly a stolen plane into the south side of the White House. Of course, if a plane were to fly into the White House that could potentially cause extensive damage.
In addition people have been shooting guns around the White House lately. Of course, it's not unusual for people to shoot guns off in Washington, D.C., but shooting incidents in the immediate vicinity of the White House have been slightly higher during the last six months, and if security experts don't react someone is liable to think they aren't doing their job.
Directly across Pennsylvania Avenue from the White House is Lafayette Park. According to the Park Service this location is the "symbol of our free and democratic nation." According to the Supreme Court it is a "quintessential public forum." According to the Peace Park vigilers, who through summer heat and winter cold have maintained a twenty-four hour a day vigil since 1981, and are also exposed to the dangers of a hostile public, without nearly as much protection First Family, closing the Park in the name of security is unnecessary.
"It's not even the best idea," says W. Thomas, co-founder of the vigil. "Closing the Park won't protect the President against bullets fired from outside the perimeter, and it won't protect him from falling airplanes, or bombs lobbed in by high-powered catapults. The best way to insure a safe First Home is to enclose it with a dome, similar to the one on the Pope's golf cart, but much larger; something along the lines of the AstroDome."
Thomas claims that in addition to maintaining a working symbol of a free and democratic nation, the Dome plan also offers added possibilities. "It could serve as a national project, who can build the strongest, most cost efficient, aesthetically pleasing bubble? Maybe it should have two layers, like thermo-glass with a 4000 p.s.i. layer of air in between for added protection against really big bomb blasts."
---
Pennsylvania Ave. Closure || Peace Park