IS BUREAUCRACY SERVING RATIVITY
IN PRESIDENT'S PARK?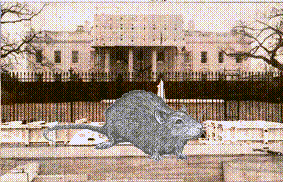 Ever get the feeling that Government is unresponsive?
After a dignified visitor to Lafayette Park was scared by a rat last summer, the rodent population in the vicinity of the White House created a blip on the screen of public concerns.
Subsequent correspondence with the National Park Service, the agency responsible for administering the park, provides an interesting perspective on the tactics and reasoning often employed by Government agents in addressing the various problems which plague humanity.
---
Solution ** Problem ** What' Wrong With This Picture?
Democracy Overview | Park Current