A LIFE OF PROTEST
By George Joseph Tanber
TOLEDO MAGAZINE, December 4-10, 1988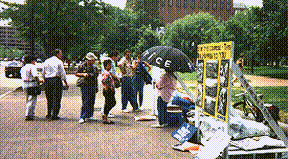 WASHINGTON: She's beginning her eighth winter in the neighborhood, yet she's never met the only other residents of the block.
Mr. and Mrs. Reagan, meet Concepcion Picciotto.
Mrs. Picciotto - Connie to her friends -- occupies a humble patch of sidewalk in Lafayette Park, directly across from the entrance to the White House. She's there in the morning, when the tourists line up fa their visit to the executive mansion; she's there in the afternoon, when office workers flock to the park for picnic lunches; she's there in the evening, when rush hour traffic clogs Pennsylvania Avenue, and she there at 3 a.m.. when silence rules, save for the occasional stirring of a restless drunk on a nearby park bench.
Each day, and nearly every night since August 1981, Concepcion Picciotto has been there It`s her home. But she's not alone. She has her signs - "Live by the Bomb . . Die by the Bomb." "Civilized People do not Nuke Fellow Humans" -- her friend William Thomas, and the squirrels.
Mrs. Picciotto and Mr. Thomas demonstrate for living Co-founders of the White House Anti-Nuclear Peace Vigil, they claim the modern record for presidential protest They pass out pamphlets, they talk with passersby, and they display their signs Their message, they say, is simple: peace, freedom, and justice for mankind.
Not so simple, it seems, has been the response. They've been harassed and arrested by police, beaten and taunted by strangers, and ignored by most of their audience.
"We are sacrificing a lot." says Mrs Picciotto. who is 43. "And we are enduring a lot. But it's worth it.
IT'S A CURIOUS life for a woman who was born half a world away, in western Spain. Orphaned at a early age, Mrs. Picciotto was raised By her grand mother. When she died. young Concepcion decided to fulfill her lifelong ambition of emigrating to the United States. She arrived in New York at age 18 and found work as a secretary with the Spanish Consulate.
At 21, she met and married an ltalian businessman. The birth of a daughter, in 1973, was followed 20 months later by a messy divorce, the details of which Mrs. Picciotto declines to discuss The result, she says, was the loss of her husband, her daughter. her job, and her home.
She spent seven years trying to gain custodv of her child. Her odyssey began in the courts of Manhattan and took her to Albany, Madrid, and finally Washington. where she sought help from her congressman. Rebuffed at every turn. Mrs. Picciotto decided to take her case to the streets.
In 1980, she secured a part-time job as a babv sitter and began spending her off-days in front of the White House with her hand-painted signs calling for justice. She also wrote letters. One, to Lillian Carter, drew this response: "I sympathize with your case, but I am 80 miles away and have no power."
Gradually, as she befriended other demonstrator: Mrs. Picciotto`s repertoir expanded to include the anti-nuclear effort. Her zeal also grew. Finally, on warm summer day, halfway through Ronald Reagans first year as president, she collected her belongings and took a bus to Lafayette Park, where she has remained.
Shortly after, she joined forces with Mr Thomas, 40, who had begun protesting at the White House the previous year. (He had been expelled From Britain for discarding his U.S passport and declaring himself stateless).
Initially. Mrs Picciotto and Mr Thomas spent their days in front of the White House and their nights in the park. But in 1985 the National Park Service enacted restrictions on White House sidewalk demonstrations forcing the protestors across the street The protestors responded by increasing the number and size of their signs. At one time. Mrs Picciotto and Mr Thomas had 18 free-standing plywood signs in a row. The tallest was over 10 feet high.
Public concern and pressure from the Interior Department resulted in further restrictions two years ago. Today, no one is allowed more than two signs. and thev can't exceed 6 feet in height. This peeves Mrs Picciotto, who sees a conspiracy directed at forcing all protestors away from the area.
Rather than pout about her misfortune, though, she is content to sit on her milk crate, which doubles as her bed, and spread the word: "Stop building nuclear weapons, and let`s use the money to eliminate poverty."
MRS PICCIOTTO is a tiny woman, about 5 feet tall. she's well-mannered and articulate, although she speaks with a thick accent. She always wears a brown wig the size of a football helmet, covered with a scarf -- she won't say why -- and on a recent chilly afternoon she wore corduroy slacks, a wool sweater, and a down vest covered with protest badges. Her shabby appearance contradicts her penchant for tidiness; she constantly sweeps leaves and litter from her part of the sidewalk and neatly stacks her belongings behind the signs.
Her face is weather-beaten, but her dark eyes sparkle, reflecting the enthusiasm she has for what she calls her "life's work."
She survives. she says, on coffee, sweet rolls, and bread. Occasionally, friends bring her cheese, fruit, and sandwiches. She uses the restroom at a nearby Hardy's restaurant and showers infrequently at a downtown shelter for the homeless. She averages three hours of sleep a day, leaning against one of her signs.
Winters are the worst, says Mrs. Picciotto. No amount of clothing keeps the cold out, and she spends most nights pacing the sidewalk to avoid perishing.
Her livelihood comes from donations, she says. On a good day she may make $15. The money is spent on food, printing literature and paint for the "peace rocks" she began making several years ago. The rocks have become popular souvenirs for tourists, although Mrs Picciotto declines to charge for them.
Harassment is her biggest concern. It ranges from verbal abuse to physical harm: Eight years ago a U.S Marine punched her in the face. There also are threats from the homeless people who sometimes inhabit the park.
Park police are another problem, since sleeping is considered camping: -- a park offense -- and leaving posters unattended also is unlawful. Mrs. Picciotto and Mr. Thomas frequently play 'cat-and-mouse' with their adversaries. Sometimes they lose. Last summer Mr. Thomas, who calls himself an intellectual and spends a lot of time in the library, served 90 days in the pokey for camping.

THERE ARE good moments. too. Every week a woman from the Humane Society delivers a bag of peanuts to Mrs. Picciotto so she can feed her beloved squirrels. She sometimes receives mail from people she has become friends with. (The Vigil has a post office box). And after her bike was stolen, a young man employed at a nearby bicycle shop pieced together another for her Despite the hardships. the sidewalk across from the White House will remain Mrs. Picciotto's home for the foreseeable future.
"Certainly. I could go back to society." she says "I could make a !iving. But God has chosen a greater task for me". One of the squirrels grabs a peanut from Mrs Picciotto`s hand and scampers into the park.
"Imagine." she says,"I have seen people freeze to death in that park, right across the street from the house of the most powerful man in the world."
---
Exhibit 23 L
---