THE DISTRICT LINE
City Paper
February 1, 1991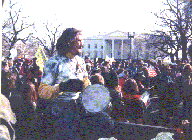 Drumbeat For Peace
Watchers in the Park Tap the Skins Against War
They bang on garbage cans, paint cans, grout buckets, mufflers, plastic gas containers, cow bells, tambourines, and actual drums. In Lafayette Park, just across Pennsylvania Avenue from the While House, a motley pack of protesters is keeping up a 24-hour drumbeat against the Gulf War.
A posse of American Indians began the less-than-silent vigil on December 13, when they trekked down from the Midwest and set up camp in the park to agitate against the then-impending first shot. The Indians initiated their protest with a tribal ceremony, smoking tobacco and praying. At the conclusion of the ceremony, they began to beat their drums.
The drumming hasn't stopped since. As the day wore on, other drum-toting anti-war protesters descended on the park from around the country to join in. The Indians packed up and left five days later, but the joiners remained. For the last two weeks, between five and 20 beat-niks have stayed the course in the park day and night.
"It's the heartbeat of the people. It's the heartbeat of Life," says Thomas, a protest fixture in the park for 10 years. He holds up his hands, exposing fresh drum-cuts on his fingers. "Three weeks ago this seemed absurd to me. But just since its start, Iíve seen it making peace. It's very calming."
Today, a Tuesday, about six drummers are at it. A young, sandy-bearded man in a tent-sized parka thrums his paint-splattered conga drum; a tall man in a green slicker whacks a large plastic garbage can with "NO WAR" scrawled on the side in red spray-pain; a middle-aged white woman bundled in odd layers toms on what looks like just the skin and rim of a bass drum adorned with "LOVE."
"The community here is excellent," says drummer Paul Sather, who hitched down from Vermount to make himself heard. "This is a little different from what I thought it would be. I came down to maybe play my guitar, sing, sit in quiet protest. But thatís not enough right now."
The drumming echoes around the surrounding streets -ó circling the White House, bouncing off the Treasury Building, and drifting to Farragut Square ó- a deep, resonant, continuous thud, accompanied by an assortment of other noismakers; harmonicas, guitars, and aimless singing swirl against and across the beat.
"I don't even understand why the hell Iím here," says a young black man in an Army jacket who won't give his name because he says he's AWOL, from the reserves. "I'm serious. Itís just like a11 of a sudden I just got up and came down. And I've been beating on the drums since then."
"For a lot of people, it was sort of the same tactic that the government used against Noriega," he says, lightly taking a stick to his tambourine. "To kind of make the leader wake up to whatís going on."
It might have already. Last Friday, President Bush told a gathering of Republicans that "those damned drumbs are keeping me up all night." Two nights later the Park Police moved in on the drummers.
"About 50 of the hats and bats came in Sunday evening," says Diana Nomad, a 40-ish woman with silver-streaked hair half-hidden under a babushka, who came three weeks ago from Missouri. "About quarter after 10, they came in and there were about a dozen people drumming, and they were told that they must stop drumming because we were going over decibel levels," she says. "Then they started dragging people off."
Thomas says he was arrested twice Sunday night, once at 10:30 and again at 3 a.m.
The protesters continue to drum at night -ó quietly, Nomad says, and the police havenít bothered them since.
Now and then passerby stop to belt out a few measures. A young woman in a shiny red coat picks up a stick; an executive-track man in a dark double-breasted suit gives a red bongo a two-finger tap. "Anyone can come down," says the AWOL, "You don't even have to have any rhythm. But once you get mixed in with the rest of the voices it all becomes one voice." In the evenings students and a lot of professional people ó "doctors, lawyers" ó come to the Park to beat on the drums, he says.
Fifty feet away, 75 or so helmeted firefighters gather, waving American flags and chanting "U.S.A.! U.S.A.!" Most of them carry signs reading "American Firefighters Salute the U.S. Armed Forces Coalition."
"They won't stay long," Thomas says. "They don't really believe in what they're talking about."
He's right. After marching past the drummers, the firefighters take to their trucks and, sirens blaring and lights flashing, drive away.
Thomas says he'll keep on drumming until he can think of something better to do. "And I don't know if I can think of anything better to do. After 10 years of talking to people who think war might be peace, I'm tired of trying to reason with people," he says. "I might as well just talk to the drums."