A Long Wait for Peace
25 Years Ago, Two People Sat Down in Lafayette Square. They Haven't Budged Yet.


By David Montgomery
Washington Post Staff Writer
Saturday, June 3, 2006; C01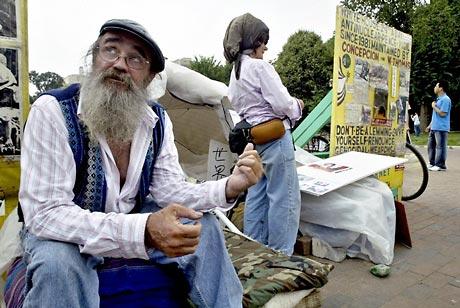 William Thomas first introduced fanny to brick on the White House sidewalk on June 3, 1981. His sign said, "Wanted: Wisdom and Honesty." He's been there ever since, still squatting, still wanting.
A few months after he began, he was joined by Concepcion Picciotto, who has remained similarly steadfast.
War is not over, but the peace protesters have won. Sort of. The oasis of green across Pennsylvania Avenue from the White House is theirs.
At some point a protest may become more than what it is about. It becomes a thing in itself. An institution. A monument.
Take Lafayette out of Lafayette Square -- the monumental statuary likeness of the Frenchman, with Colonial braid, big boots and a sword -- and hardly anyone would notice. (Hint: He's not the guy on the charger; that's Jackson).
But get rid of the shelter made of a battered patio umbrella, a weathered plastic tarp and those faded anti-nuke signs erected by Thomas and Picciotto?
It wouldn't be the same park.
Tourists from places like Beijing and Chicago would no longer flash peace signs for digital cameras. School groups would make one less stop. Tour-guide shticks would shrink by a sentence or two.
So fewer conversations, arguments and tears. Two less souls to share the space on cold days and nights with pigeons, squirrels and rooftop snipers.
Anniversary celebrations are for institutions. The 25th Anniversary Speakout for the 24-7 peace vigil begins at noon today, hosted by peace and anti-nuke groups, with speakers and invitations to "sing, chant, recite, drum, dance your heartsong."
A quarter-century. Through rain and sleet and snow and the heat of summer. And police raids and lawyers and courtrooms. And jail. Thomas was once sentenced to 90 days for violating the elaborate (and ever-evolving) rules of expression.
But that's all been sorted out. As long as they don't "camp" (dozing off on your stool is okay, but no sleeping in anything that resembles "bedding"), stray more than three feet from their signs or construct overly large posters, the law leaves them alone.
The National Park Police and the Secret Service have learned to live with the protesters.
"We make it look like a free country," Thomas says. "We're an asset to the government. So they don't pay much attention and pretend we're not here."
They are like a living diorama, something to learn from or laugh at. Maybe the U.S. Commission of Fine Arts -- the federal design arbiters of monumental Washington -- should take jurisdiction over this monument.
Thomas Luebke, commission secretary, is not convinced. Yet.
"When does something that is ephemeral, by virtue of its constancy become something that is not ephemeral?" he muses. "The interesting thing is how some places acquire a certain dignity over time by virtue of their use as a place of expression or commemoration."
That has happened to the steps leading to the Lincoln Memorial, where Marian Anderson sang and Martin Luther King Jr. spoke.
Next? The boxes of literature and the signs and the ground sheet in the park?
They have inspired legislation on Capitol Hill. Every session, Rep. Eleanor Holmes Norton (D-D.C.) introduces the Nuclear Disarmament and Economic Conversion Act, calling for nations to mutually agree to disarm. It's based on a ballot proposition that passed in the District of Columbia in 1993 that was inspired by the vigil-keepers.
The bill never goes anywhere, but, says Norton, "The reason they have become a fixture is because they are there for the long haul for disarmament."
"I take my high school and college students regularly to the vigil," says Colman McCarthy, a former Washington Post columnist who now teaches peace studies. "I'd rather they see a sermon on peace than hear one."
The fact that the nation is at war again, that nuclear fear is once again in the air, does not take away from the vigil keepers, McCarthy says: "The basic philosophy of the peace movement is not to worry about being successful, but to worry about being faithful. For 25 years these people have carried on a commitment that goes back to Isaiah."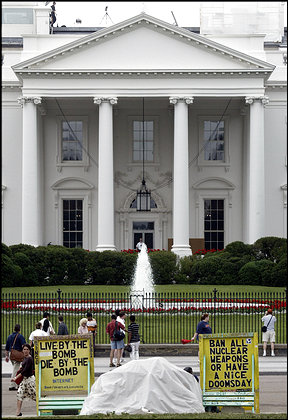 In the beginning, Thomas and Picciotto stationed themselves on the sidewalk next to the White House fence. New rules forced them to the sidewalk on the other side of Pennsylvania. Once every four years, during inaugural parades, they also have to move. They were also displaced for the recent reconstruction of the avenue, then allowed back to the new brick sidewalk.

Since the early days, they have split up vigil duties, alternating six-hour shifts so someone is on duty 24 hours a day. Their schedule is at least as rigid as any of the bourgeois clock-punchers who sometimes sneer at their lifestyle. It takes discipline to last 25 years.

< p>They have also been disciplined in their method and message. Washington is a protester magnet, and over the years the tides of rage against apartheid, the Gulf War, Kosovo, corporate globalization, the NATO summit, the Iraq war have swirled around them. The streets fill with passion for a season, then the passion drains away. But the vigilers remain constant.

When not in the park, they spend time in Peace House, a group house about 10 blocks away, a space purchased with a little money left by elderly friends several years ago. They do not solicit money. Thomas says he eats donated food and wears donated clothes.

Naturally, there is a Web site. (Prop1.org). Thomas's wife, Ellen, who supports the vigil, posts online diary entries about the effort.

"I never imagined I'd be sitting here for 25 years," Thomas, 60, says. He was at his post on the sidewalk yesterday afternoon. "I've always been something of a nomad, and to think I would sit here for so long was something incomprehensible."

He says he worked as a truck driver and jewelry maker and lived in places like New York and New Mexico before he came to Washington. His fundamental hypothesis is that the government lies. These lies were used to justify the nuclear arms race, and they are at the root of all the war-making since, he says.

"I'm not convinced absolutely that I'm not incorrect," he says. "So I sit here and I tell people what I believe, in the hope that if I am incorrect, somebody will come by and explain to me the error of my thinking. Unfortunately, it hasn't happened yet."

He says he's going to stay until someone convinces him he's wrong, or he convinces the world he's right.

"It hasn't made any monumental difference," he says. "But I'm sure the things I've said have sparked some people to think and change their lives, not a whole lot of people, but enough to make me think I'm not spinning my wheels."

Picciotto won't talk to a reporter because she is sure he'll print lies. She has said she was born in Spain. Today, she will only say: "We got to stop this insanity. No more invasions."

Sometimes the peacemakers do get on each other's nerves.

"No pictures," Picciotto says to a news photographer after tourists have been snapping her all day.

"What is wrong with you?" asks Thomas.

"You think I'm a fool?" says Picciotto.

"Yes, sometimes," says Thomas.

A dozen Chinese tourists appear. They don't speak English, but they are tickled by this display of good old American protest.

They pose for pictures with Thomas. He dutifully plays his role, giving a peace sign and a smile. The guy with the camera takes his time clicking off frames, so Thomas mutters through his smile, "We can't take all day with this."

Now here come Ken and Rusti Liston of Palm Coast, Fla. He is retired from the Army.

"This is one of the great things about the United States," he says to his wife, explaining how soldiers make protesters possible. Then he gets into an argument with Thomas over the necessity of dropping the atomic bomb on Japan.

"The war was over!" says Thomas.

"Far from it!" says Liston.

It's not the first time Thomas has had this debate. Nor probably the last. His next shift begins at 6 p.m.