August 19, 2005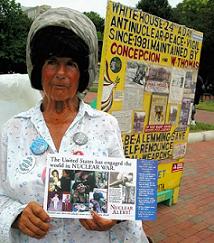 Editor's Note: Long before

Cindy Sheehan

captured the media's attention by setting up camp outside President George W. Bush's ranch in Crawford, Tx. and demanding a meeting with him, a woman braved weather and a generation of curious onlookers to push her cause, just feet away from the White House. DCist's resident interviewer

Jeff Simmermon

took to the streets to find out who this woman is and what she is doing there.

Concepcion Picciotto is familiar to tourists, D.C. locals and at least five Presidents. She resides in Lafayette Park in a handmade plastic tent between two large handpainted signs protesting presidential corruption and nuclear weapons.

But she refuses to discuss her age and her reasons for conducting such an involved, one-woman onslaught on the White House. When asked about her family, she replies in a thick Spanish accent, "The world is my family. I am a citizen of the world."

We caught up with her under the hot, heavy cover of an imminent downpour this week to learn a little bit more about her than what we could read on her signs.

How long have you been out here in front of the White House?

Since 1981.

Have you been here 24 hours a day since then?

I have only left for my necessities that I have to move as a human being.

Nobody come and relieves you?

I began across the street in '81, over there. [Editor's note: Next to the fence in front of the White House lawn.] There were two people, my colleague and I, from '81 until '83. Then Reagan passed the regulation that he didn't want the sign there. We had been arrested, beaten up by Marines, people for Reagan, but we were there. Finally in 1983 they decided they didn't want to have any more signs in front of the gates.

We have been in court with American Civil Liberties Union, who challenged the regulations there. The court, they ruled that we have the right to be there, by the gates, because it's protected by the Constitution. Reagan disregarded it, he says, "no." We have to move it to here, across the street, which is where I am now. And then the American Civil Liberties Union refused to challenge the new regulations that forced us to this side. Because they said "they do what they want. We have wasted too much time in court." Thomas, he says, "I am going to challenge the regulations in court." And that's what he did.

We have been beaten up and arrested here. Thomas is engaged in doing all the legal, he use the computer, he comes to give me a break, because he is very busy, and otherwise, I am here night and day.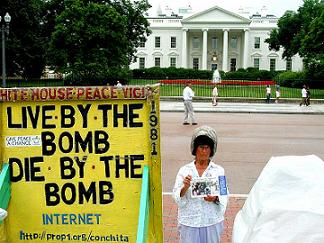 What inspired you to protest here?

Corruption. I used to live in New York, and something happened to me that opened my eyes to the reality of what this nation is doing, the government. And that is why I am here.

Can you tell us what it is that happened?

No. That is why I am here. I have a website with the whole history of the vigil, what motivates, what keeps me here.

Do people hassle you now?

Oh yes. It used to be much more, and now it is not much because people are have started awakening and are aware that what they are doing is lying. They are paying more attention, much more.

You've been here through several presidencies. Do you feel that no matter who is in the White House, they will be liars and corrupt?

That is correct. They are all corrupt, but this Bush is the worst of them all. All the other leaders, Reagan was very bad, Jimmy Carter was no good either, because Jimmy Carter was engaged with the military in Argentina. Him and Reagan. Reagan was involved with contras. But the world situation was better than today. In the world, there were only two powers up until the mass destruction weapons. Since the Soviet Union collapsed, everybody now has...

After Reagan came Bush's father. He engaged in wars in Iraq and Kuwait. After that came Clinton. Clinton didn't do much, he had his personal behavior, sexual scandal, was horrible, but also bombed Iraq to cover up Monica. Didn't do any good. After Clinton, came Bush son. And this guy, when he took office, the president said, "I have come to carry on my father's work." His father's work is the genocide in Iraq. The president should come and say, "I have come to represent and serve American people as a public servant." But he didn't say that, only to carry on his father's work.

Were you born in the United States?

No. I am from Spain.

How old were you when you came here?

Well, that's not important, I came here young enough. I was living in New York about 1960.

Do you think that there's any hope? Could a president come into the White House that could turn this tide of lying and corruption?

The president has to be removed.

The one that's in there right now, or the institution?

I'm talking about Bush. We have to remove him before engaging in a nuclear war. A nuclear war.

Do you think that we'll ever have a good leader?

We hope that there is one, that is what we are trying to do. There must be people out there who qualify, and then we never are able to get them into the palace, because there is so much money involved, millions and millions of dollars. And it shouldn't be that way. It should be the qualifications of a person to lead the nation to peace and stability.

Do you have family that comes to visit?

The world is my family.

Is there anything else you want to tell our readers?

We have to remove the president before engaging into a nuclear war, because we cannot tolerate to go with more excuses and lies to Iran or North Korea or any other country, why they support Israel who proliferate the world with nuclear weapons. Israel is spying on the United States, and this world war has to be stopped.

If all the madness that you are protesting did stop in your lifetime, what would you do?

I don't know.