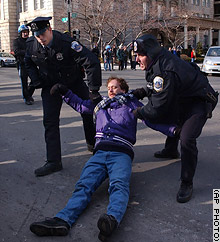 Seven people were arrested tonight for being in an act of civil disobedience, on H street in front of Lafayette Park where activists surrounded by an extremely heavy police presence protested Bush's war on Iraq.
I arrived at the White House at approximately 4 PM. There were a couple of hundred people present, many with ANSWER's signs, but also quite a few with their own signs. The crowd seemed to change when another group that had still been marching joined in. The protesters present cheered at their arrival. Many of the people who arrived at the time appeared to be young adults or teenagers. They formed a large circle and chanted.
Other people closer to the center of the intersection at 16th and H were talking, singing or playing music. There were a number of reporters present.
A small group of counter-protesters stood on the corner, one carrying a large American flag, yelling insults.
The police presence was extremely heavy. Lafayette Park had been taken over by protesters, earlier, but I was not there at that time. When I arrived at 4 PM, Lafayette was barricaded, just like it had been on Friday. Behind the barricades were a long line of police in riot gear. Behind them, were approximately 20 police officers on horseback. Police on motorcycles, bikes, and in cars surrounded the area, but people were still free to come and go at this time. You just had to go around the police in riot gear if you needed to leave.
At one point myself and several other people noticed the arrival of two men in grey, plain uniforms none of us could identify, wearing dark sunglasses. Someone thought they were possibly from the third infantry division of the Army, but this was just conjecture. I took several pictures of them as they stood in the middle of the police line up.
A number of protesters sat or stood directly facing the officers in riot gear who were behind the fence surrounding Lafayette. Around this time was when Chief Ramsey arrived.
Members of the National Lawyers Guild, there to document, were giving people information on their rights and speaking with the police. I asked one of them if we were at risk of being arrested for being in the street. She said not at that time (this was sometime between 5 and 6 PM), but that this was "a low-risk situation", and people needed to be aware of that. As the sidewalk was not a place where anyone could be arrested, many people who wanted to avoid arrest, once they learned this information, began lining the sidewalk.
Around this time, I got out the DC IMC phone number I had written down just in case it would be of use today, and called on my cell phone (and the battery died while I was on the air I think; sorry about that..one of those who was later arrested helped find someone else with a cell phone so I could make another call in).
Several times during the evening I noticed people dressed in suits and formal dresses, approach the police, evidently asking them to have the protesters removed from the street.
I stayed in the street at this time, and this is when a group formed a peace sign. This group was probably about twenty people, not sixty as is mentioned on the breaking news. Around them were other people singing and clapping.
For a while we were singing, "peace, salaam, shalom".
Some of the crowd left as the police attention became more intense. The workers for the National Lawyers Guild people the police planned on giving one warning when they wanted everyone out of the street, and those who remained in the street at that time would all be arrested. At this point I had no idea when that one warning would come, but later found out it was related to a permit that ended at 7:30, according to several people present.
The police began to bring in paddy wagons. The entire length of 16th near H was lined with police cars. The police on motorcycles and bikes were still present. A white van came in and parked in the middle of H street. Police in riot gear were standing directly behind the group women and other on the sidewalk, with their batons visible. Police in riot gear and police vehicles eventually surrounded the protest area.
I overheard one such conversation involving people who were going to a wedding, and some appeared to be staying at a hotel on the corner of 16th and H. This may or may not be related to the way we were all later removed from the street. CBS local news reported tonight at 11, that activists were "blocking traffic", which was not exactly true since the police vehicles were what was blocking traffic.
A group of people formed a circle in the middle of H street. I joined them at one point, and others joined in standing around them. This was approximately fifteen people in a circle and maybe thirty more still on the street. Some planned to remain in the street when the police moved in, and others who were not going to participate in civil disobedience planned to go to the sidewalk. When the order came, some people on the street could not actually hear what was being said by the police, and others were telling them it was the order to get out of the street. Immediately a line of approximately 50 policemen in riot gear moved in towards us all, batons in hand.
We moved to the sidewalk, lined the side walk and then several people who planned on being arrested went back into the street and lied down. A couple of other people decided to join them. The rest of the protesters cheered, sang or chanted. Many of us were yelling, "Whose streets? OUR streets!", and, pointing downward or towards the activists, chanting, "THIS IS WHAT DEMOCRACY LOOKS LIKE," then pointing at the police in riot gear who were standing in formation on every side of the people in the street, "THAT IS WHAT HYPOCRACY LOOKS LIKE". People also chanted, "There they lie on their backs for the people of Iraq" (or something close to that).
There were approximately 40 police in riot gear to the right, 40 more to the left, and 40 more lining the intersection with 16th street. The people who went into the street were surrounded by between 30-50 officers at once. There were only seven or eight protesters, and this many officers surrounded them to arrest them. All of those arrested were non-violent, and there had been no indication that anyone intended to fight with police officers.
The number of people arrested, according to a member of the National Lawyers Guild was seven; the local TV news networks are all reporting it as eight people. Several of those arrested were under the age of 18, and were taken to the 1st Division station, while those over 18 were taken to Blue Plain Academy. This is information directly from a member of the National Lawyers' Guild who had been documenting the events.
As the police moved in to arrest people, I took pictures, but a line of police officers in riot gear moved towards those of us on the sidewalk at the same time, thereby obstructing our view of the arrests. My camera was being blocked by their faces as I tried to get pictures of the arrests. Many of us on the sidewalk continued loudly chanting as we were faced with officers in riot gear approximately a few inches from the curb.
I moved over toward the paddywagon where those arrested were surrounded by police and impossible to see from our side of the street. I was trying to get pictures of the arrests. A harassing man attempted to obstruct my view by standing in front of me, pushing me, and putting his hand in front of my camera as he yelled about how we were "racists" for supposedly not caring about the people of Iraq (ironically), and as I told him to get out of my way, the police watching, a few inches away, did absolutely nothing to help.
After the arrestees left, many of the protesters began to leave eventually, and at about 9:30 when I left there were approximately 8 people who intended to spend the night there on the sidewalk. A couple of people did spend the night on the sidewalk there the night before. The police will not allow anyone to lie down on the sidewalk so this involves sitting all night. You can, at least, sit on the sidewalk in front of Lafayette Park, unlike the sidewalk that is directly in front of the White House where police do not allow anyone to sit down.
Most of those staying overnight appear to be between 18 and 25 years old. Several police officers stood guard behind the barricade and apparently will be there all night also. A couple of other people who had been planning on staying there all night ended up being among those arrested.
Fox News, CBS, NBC, and ABC cameras, to the best of my knowledge, were all at this rally at some point. Several cameras were filming the entire time before, during, and after people were arrested. Earlier some of the protesters yelled their thoughts about NBC having biased reporting (can't remember the exact words). This was, apparently, when NBC was there. There were also other reporters present, including a cameraman and a reporter from the Phillipines who asked me a few questions.
A number of other people were taking pictures or video with digital cameras. Hopefully some will post them on indymedia. I will post pictures after my film is developed. One cameraman told me he will be posting his video here. However, there were also a couple of people who said the Natoinal Lawyers' Guild wanted pictures of the arrests from anyone who had them. Since it was hard to get pictures of the arrest, due to policemen blocking people's view, I don't know how mine will turn out. If you have any, please consider contacting the National Lawyers' Guild.
Sorry, there were few typos in this story as I'm relaly tired. The below paragraph is in the wrong spot in the story and belonged later, related to people going to a wedding.
Glad to read on the breaking news that this sexist jerk was approached during the march. I approached him myself, in front of Lafayette Park, attempting to explain that this stupid sign not only was an insult to women, but considering that he had planted himself in the center area directly in front of the barricades and multiple people were taking his picture, this idiocy was gathering a lot more attention than people whose signs showed some sort of thoughts related to ending war and not frat boy humor.
A woman came up to help in trying to confront this person but about 5 male protesters stood there and laughed, telling me, "it's freedom of speech, babe", and other garbage.
One might wonder what this person (and his friends) were doing there in the first place. He stayed standing in the same spot with his "Show Yor Tits for Peace" sign for a good hour.