Protesters say new group spurs crackdown
December 9, 2002 Washington Times
Nuclear weapons protesters who have held a 21-year vigil across from the White House say that the U.S. Park Police have cracked down on their demonstration since a women's group opposed to war with Iraq joined them in Lafayette Park.
     "I think dissension is growing and they are not happy with the recent installment of the ladies in pink," said Don Condron, a member of the Proposition One group, which has held an around-the-clock anti-nuclear weapons vigil since June 3, 1981.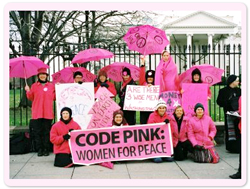 The "ladies in pink," who are participating in the Women's Peace Vigil, arrived in Lafayette Park on Nov. 17 wearing pink shirts and hoisting a pink banner that proclaims: "Code Pink: Women for Peace."
     Lt. Shawn Turonis of the U.S. Park Police said that the agency had not stepped up enforcement to discourage demonstrations against war with Iraq, though the presence of new groups may force officers to give less leeway to the regular protesters.
     Jodie Evans, a co-founder of the women's vigil, said that the park police had "chilled" the protest by nitpicking over the rules.
     "They will come by and say, 'Your sign is too big. You can't be more than three feet away from the sign,'" said Miss Evans, who traveled to the four-month vigil from her home in Venice, Calif.
     "I'm surprised," she said. "As a citizen, I'm shocked. It's basically like they put clamps on you. It's like, 'Let's pretend you have free speech.'"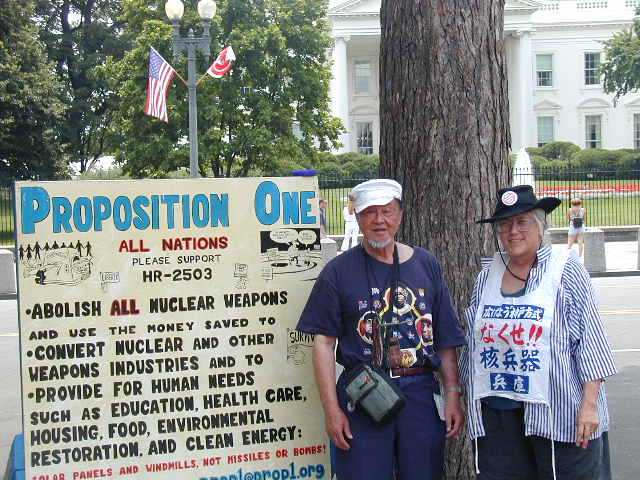 Ellen Thomas, a leader of Proposition One, said the new, sharper scrutiny from park police did not bode well for free speech in America.
     "I think the police are stepping out of bounds, and it alarms me," she said.
     "With the passage of the homeland security bill, I'm afraid the police might feel that they have carte blanche to wipe out protests."
     Lt. Turonis said that it was not his understanding that the park police would become part of the new Homeland Security Department. He also said the officers were just doing their job.
     "The park police are under no orders from anybody to increase our enforcement against anti-war demonstrators," he said,
     "In fact, park police encourage demonstrations as long as they are lawful."
     Some of the rules include no sleeping, no displaying more than two signs, no leaving a sign unattended or erecting structures such as tents.
     There also is a 23-person limit in a demonstration without a permit, and no permits are being issued for large-scale demonstrations in Lafayette Park.
     There were about seven women at the Code Pink demonstration yesterday.
     Lt. Turonis said that officers had to tell the Women's Peace Vigil that they could not put up a tent, and the women pointed out that Proposition One had erected a makeshift one by draping a plastic sheet over one of their signs.
     "It's winter, and they are out there 24 hours a day," he said. "Sometimes we overlook these things. But when others point out a violation, we have to take action."
     The park police usually give protesters at the park up to three warnings before they decide to issue a citation.
     Most arrests are scheduled by protest groups, but some demonstrators are arrested when they resist park police orders, such as a Korean demonstrator arrested Saturday for assaulting an officer, said Lt. Turonis.
     Diane Wilson, one of the organizers of the Women's Peace Vigil, was arrested twice.
     The first time, she was arrested for climbing onto the White House fence to attach a large banner.
     The second time, it was for constructing a makeshift tent out of a plastic sheet.
     Her second arrest also violated a court order to stay at least three blocks from the White House.
     As a result, she was ordered to stay out of the District for a year or face a year in jail.
     "They will be allowed to demonstrate within their First Amendment rights," Lt. Turonis said.
     "If they violate the rules, then action can be taken against them. That doesn't mean action will always will be taken against them."
Home