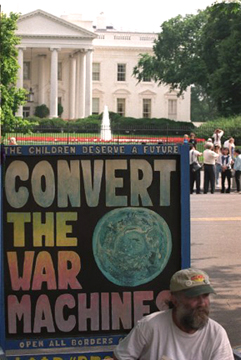 "President's Lafayette Park neighbors
live for their cause"
by MATT HAGENGRUBER
June 20, 2000
Knight Ridder/Tribune Information Services (KRT)
"[A] protester for the Peace Park Vigil sits on Pennsylvania Avenue across from the White House in Washington, DC. [He] has been keeping vigil since June 1999." Knight-Ridder Photo
WASHINGTON _ Ellen Thomas sits on a blue Mexican serape blanket, which partly covers a large blue protest sign directly across Pennsylvania Avenue from the White House. It's adorned with the slogans "LIVE BY THE BOMB ... DIE BY THE BOMB" and "CONVERT THE WAR MACHINES." She's been sitting there, peacefully protesting since 1984. The signs have been there since 1981, and so has her husband, vigil founder William Thomas, whom they call simply "Thomas."
Ellen Thomas talks quietly with passers-by and hands out fliers to tourists, schoolchildren and business people. Only those who stop to read the signs are offered a flier. Many toss them once out of view, but a few will read the newsletter, and a few more might check out the group's Web site, www.prop1.org. At the base of a large tree, her dog, Bo, lounges in the late-morning summer heat. He pants even though he just got a haircut. Ellen Thomas is just one of a handful of volunteers who spend their evenings, nights, mornings, weekends or afternoons in the shade, with their back to the White House, looking into Lafayette Park. Twenty-four hours a day, 365 days a year. Nineteen years and counting.
They're protesting nuclear weapons. They want the U.S. government, along with the other nations of the world, to give up their nuclear weapons and divert the money spent on the arms to humanitarian and environmental causes.
"Basically, the core motivation is my beliefs," William Thomas said. "I believe that energy and resources should be expended in a constructive manner, and I live in a society where constructive use of those resources isn't highly valued."
They have been successful in having introduced in the U.S. House of Representatives an initiative known as Proposition 1, which calls for the disarmament of nuclear weapons. The proposition has been introduced four times by D.C. Delegate Eleanor Holmes Norton, but it never made it out of committee.
"Why not take the money from nuclear weapons development and put it into alternative energy?" Ellen Thomas says. "People are beginning to conceptualize what the world would be like without nuclear weapons." She is part of a small group of protesters, following the lead of the vigil's founder, William Thomas. His background is as interesting and diverse as the colors on his signs.
After giving up a business in New Mexico, Thomas went to Africa in 1976. "Being a skeptic, I decided I was going to walk across North Africa with no money," he said. "I walked from Casablanca to Cairo with no money, about 2,500 miles."
He traveled with only a waterproof blanket, a T-shirt and an extra pair of jeans. During the six-month journey, he estimates that he slept under a roof for about 40 days. "I never asked anyone for anything. Oftentimes they would offer me a place to stay," he said.
Once in Egypt, he decided to walk across the Sinai Desert and was arrested for entering a secure military area. He spent a year in an Egyptian prison, was deported to Jordan, which promptly sent him back to Egypt. He then started walking again and was arrested in Israel for not having a passport or any travel documents.
He headed north, walking across Europe. He arrived in England, where he tried to renounce his American citizenship, but he blames the bureaucratic process in England and the United States for not allowing him to do so properly. After trying several times to deport him to the United States, Thomas was eventually escorted to New York by British police. He eventually made it to Washington.
He began the Lafayette Park vigil in 1981 with Concepcion Picciotto, another protester who sits about 20 feet away with her signs. Since then, "Connie" has become estranged from everyone but Thomas. Connie receives much more attention from tourists than Thomas' group, but people still stop to stand in the shade and read the group's fliers.
The protesters have endured bitter cold, pulsing heat and jail time in order to promote their message to tourists and now three presidents. One group member claims that President Clinton once pulled up at 3 a.m. and spoke with him for several minutes, but the story can't be substantiated. Ellen Thomas is relieved of her vigil duties after several hours by Donn Condron, another protester. He's been involved in the vigil since its inception, but didn't start protesting until last June. "I've done all kinds of things, construction, carpentry; but I used to come over here on my lunch break," he said. "We used to use my apartment to make the signs."
Condron sits and talks with the few regulars who often stop by the vigil. One of them, "Jay," brings a bag of peanuts to feed the squirrels. Condron fills the bed of a large remote-controlled truck with the peanuts and drives it around the sidewalk, enticing the squirrels to go for a ride to get a peanut. Condron says more squirrels are around now that the block of Pennsylvania Avenue in front of the White House is closed to vehicles, but others in the group are upset that the government closed the street to traffic. "I've witnessed, firsthand, the meteoric rise of the police state," Thomas said. "This isn't a neighborhood where a large police force is needed. Tour buses come and they look at us and say "only in America, can they do this,' but I've been arrested over 40 times."
In one of the more memorable events for the group, members tied balloons with anti-nuke messages to the peanuts and gave them to the squirrels. The squirrels took off across Pennsylvania Avenue and were chased by Secret Service agents trying to nab the balloons. Group members have to be careful with how they protest. Displeased presidents and Secret Service agents have pushed for ordinances over the years that limit their protesting, such as allowing only two signs and the right to remove the signs if protesters are more than 3 feet away from them.
"When the Republicans are in office, it's more stringent," Condron said. "With the Democrats, it's not as bad." Thomas concurs, pointing out that the group is banished from the White House side of Pennsylvania Avenue.
But the vigil is still going with no end in sight. "The police tried to get rid of him (Thomas), but we just keep on going," Ellen Thomas said. "There used to be a concerted effort to get us out of here, but it doesn't seem to be a policy to remove us anymore, and we appreciate that."
The group attracts attention from tour guides as well, some good and some bad. "Some tour guides tell their groups that we're the First Amendment in action," she said. "Others tell them that we're crazy or communists or we want money, and I have no idea where they get these ideas." Ellen Thomas became involved in the group after her two children were grown.
"I was working at the National Wildlife Federation," she said. "I decided that when I didn't need to worry about providing for my daughter, I was going to reduce my income to below the poverty level so I wouldn't have to pay taxes, because I don't agree with the policies" of the U.S. government.
She met William Thomas soon after and the two were married in 1984. Since then, she has spent time in prison for "camping" in Lafayette Park. She and Thomas were arrested in 1987 for wrapping themselves in a blanket to keep warm, which, according to the U.S. Park Police, is considered illegal.
Ellen Thomas believes that after 19 years, something has been accomplished. "We've planted some seeds because 3 million people visit the White House each year," suggesting that some of those visitors leave with a different perspective on nuclear weapons.
Many people who pass by the signs think that the protesters are homeless, but that isn't the case. The group lives and works out of an office on 12th Street in Northwest Washington, where they run their award-winning Web site. They received the office, a former crack house, free in exchange for bringing it up to code.
Through it all, Ellen is proud to point out that she's there to offer a solution. "I'm doing it because I choose to do it. I meet a lot of interesting people and learn stuff I wouldn't otherwise learn," she said. "I'm not here to complain, I'm here to fix.
"If they got rid of nuclear weapons, I'd consider leaving, but that might only be the start of it, the tip of the iceberg," Thomas said. "I believe in truth, justice, freedom and equality."
PHOTOS available from KRT Photo Service.
Knight Ridder/Tribune Information Services.
AP-NY-06-23-00 0616EDT