Officer Who Fired Shots
Seen Only Briefly on Tape
Homeless Man Raised Knife,
Park Police Say
By Ruben Castaneda
Washington Post Staff Writer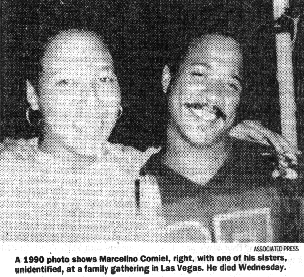 A police officer who was visible only briefly on a videotape of the shooting of a homeless man in front of the White House on Tuesday fired the bullets that killed the knife-wielding man, a police spokesman said yesterday.
The U.S, Park Police officer, Jeff Leon Capps, fired because the man began to move his weapon up and forward after having ignored repeated commands to drop it.
The movement was not visible on the videotape, made by a bystander, which showed the final seconds of the confrontation, Park Police officials said. Capps, a nine-year member of the force. feared that Marcelino Corniel was about to lunge at two other officers who were facing off with Corniel, said Maj. Robert H. Hines, a Park Police spokesman.
Corniel was six to eight feet from the other officers, close enough to, with a quick stride, reach and slash them with the knife, which is about a foot long and has a serrated blade, Hines said. Capps, the fifth officer to arrive on the scene, fired twice, hitting Corniel in the chest and leg.
"We think he did the right thing, Hines said.
Citing telephoned death threats against the officer who shot Corniel, the Park Police had refused to identify him. The D.C. police also declined to identify the officer. The Washington Post learned his identity through other sources, and the name was confirmed by Park Police.
Corniel, 33, died Wednesday night at George Washington University Hospital despite two operations. In other developments, three longtime Lafayette Square protesters filed suit in U.S. District Court yesterday asking that the Park Police stop harassing demonstrators and homeless people who frequent the square. William Thomas, one of the people who filed suit, said Park Police officers harass people who sleep in the Park by kicking them or jabbing them with their batons to enforce a prohibition against camping.
Some of the protesters and homeless people who stay in the park, across Pennsylvania Avenue from the White House, said Tuesday's confrontation may have resulted from tension between Corniel and Park Police Officer Stephen J. O'Neill. Moments before the shooting, Corniel, with the knife taped to his hand, Allegedly chased O'Neill from the park to the sidewalk in front of the White House.
Also yesterday, a California lawyer who represented Rodney G. King in a civil suit against the Los Angeles police said he is representing Corniel's family and will investigate whether the shooting was a case of excessive force. "The video indicates the shooting was unnecessary," said lawyer Milton Grimes, "this man from all indications did not have to be shot, though we will be interviewing witnesses." Corniel suffered severe burns over about 80 percent of his body in a 1992 car accident. Because of those injuries, Corniel could have been easily overpowered by a single officer, Grimes said.
Authorities on police use of force said charging a man holding a large knife would not be an option for officers because they likely would be slashed, possibly fatally. The specialists also said it is impossible from viewing the videotape to determine whether the shooting was justified because the tape did not show a front view of Corniel and did not show the actions that led to the confrontation.
On Wednesday, hours before he died, Corniel was charged with one count of threatening a federal officer.
According to Park Police,officials and the FBI affidavit filed in federal court, Corniel taped the knife to his left hand and chased O'Neill across Pennsylvania Avenue. Corniel allegedly ignored O'Neil's commands to drop the knife.
O'Neill ran to a spot on the sidewalk where he was joined by another Park Police officer and two Secret Service officers. The four faced Corniel, their guns drawn. The videotape captured only the latter portion of the face-off. Corniel is seen standing almost motionless. After 10 to 15 seconds, he falls after being shot.
The shots were fired by Capps, the fifth officer to arrive on the scene, who was to the far left of Corniel, about 15 feet away, Hines said. The officer was in the frame of the camera for only a "nanosecond, Hines said.
What is not visible on the videotape, Hines said, is Corniel moving the knife up and forward from his side. It was at that moment that Capps, fearing Corniel was about to lunge toward the two closest officers, fired, Hines said. Some witnesses have told D.C. police investigators that Corniel appeared agitated and ready to lunge.
The two closest officers were within six to eight feet, a distance that is difficult to gauge on the videotape, Hines and D.C. police investigators said. If the officer had waited for Corniel to lunge, Corniel"s momentum could have allowed him to slash one of the officers, Hines said. In addition, moving targets are very difficult to shoot, even at that distance, Hines and independent specialists on the use of force said.
Unlike the other officers, Capps had a clear shot with no bystanders in his line of fire behind Corniel, Hines said.
Because of the difficulty in hitting targets in stressful situations, it is standard for police departments to train officers to aim for the torso, rather than trying to disable people by shooting them in the legs. Warning shots also are prohibited because they greatly increase the odds that a bystander could be injured.
Wednesday, a Park Police official said Park Police officers carry only batons in addition to their 9mm handguns. Hines corrected that statement yesterday, saying officers do carry pepper spray.
That was not an option, however, because sometimes it fails to stop dangerous suspects. In addition, even a light wind might change the direction of the spray and disable officers. Hines said.
Park Police policy authorizes an officer to use deadly force to protect himself or the public from an imminent threat of death or serious injury. Under the policy, firearms also may be justified as a final resort to arrest or prevent the escape of a dangerous felon after reasonable means have been exhausted. The D.C. police policy on the use of deadly force is virtually identical.
Unlike the Park Police, however, most local law enforcement agencies in the Washington area routinely and promptly release the names of officers who have fatally shot a suspect in the line of duty.
D.C. police and departments in Fairfax, Montgomery and Arlington counties and Alexandria release the names of officers who have killed a suspect the same day or within 24 hours.
With the death of Corniel, D.C. homicide detectives have taken over the investigation. Detectives will turn their findings over to the U.S. attorney's office, without making any recommendations regarding potential charges, said Capt. William Hennessy, commander of the homicide squad.
The U.S. attorney"s office will review the findings and could forward the case to a grand jury.
Hines said Capps has an excellent record and has not been involved in any previous shootings.
In his home state of California, Corniel was a gang member with a record of using knives to commit violence, according to court records and law enforcement officials in that state. He served five years in state prison after he was convicted of two counts of armed robbery and an assault charge.
In 1984, Corniel was charged with stabbing a gang rival in the head, arms, and right side of the body. He pleaded guilty to assault with a deadly weapon and was placed on probation.
Corniel, who was reported missing by his family in August, had been sleeping at Lafayette Square since late summer, according to protesters and people who live in the square.
At Lafayette Square yesterday, a group of men and women who sleep and protest there held a disorganized and emotional news conference decrying the shooting.
Robin Patton, a 33-year-old woman who said she has been living in the park for six months, complained that U.S. Park Police officers have been harassing people in recent weeks after a series of attacks on or near the White House.
"Some people here use drugs or alcohol, but we are still human beings," she said. "The police have been so frustrated after the plane crash and the shooting that they've been taking it out on us. Marcelino was a quiet person; he didn't run around drinking and hollering like some do. The police did not have to kill him."
Staff writers Pamela Constable, Toni Locy and Cindy Loose contributed to this report.
---