Posted without profit or payment for research and educational purposes only, in accordance with Title 17 U.S.C. section 107 .
---
The "Counter-Inaugural Coalition" held a "Counter-Inaugural Banquet" outside Union Station while the Presidet-Elect's party partied inside. Ellen Thomas of the Peace Park Antinuclear Vigil was emcee for the event. "It was quite a rush," she remembers, "every word I spoke made the crowd roar. Frankly, it made me understand for a moment what the addiction to politics might be."
---
Homeless dinner tops 'counter' events
---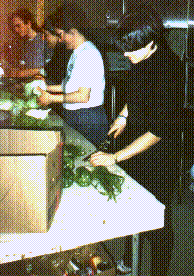 THE INAUGURATION
: A GRAND OLD PARTY
The Baltimore Sun
WEDNESDAY, JANUARY 18, 1989
By Susan Baer
Washington Bureau of The Sun
WASHINGTON -- Tonight, as the limos pull up to Union Station. one of the three sites for the $1,500-a-plate inaugural dinner, and women in glittery gowns and men in tuxedoes step out, another group of people will be gathering just yards away --Washington's homeless.
The Washington Peace Center, a coalition of more than 70 peace and justice groups, is setting up a soup kitchen-style dinner outsilde Union Station to call attention to the disparity between the high price tag that accompanies this, the most expensive inaugural week ever, and the great number of homeless and hungry people in the country. "It's a horrible waste of money," says Mark Anderson, one of the coordinators of the dinner for the homeless, which is to be held from 5 p.m. to 8 p.m. "We want to focus on the gap, between the rhetoric of the incoming Bush administration and its way of presenting itself. The gap is too glaring to overlook. If George Bush is serious about a kinder, gentler America, he's getting off totally on the wrong foot. We're trying not only to criticize, but to offer another agenda for a truly kinder, gentler America."
The Community for Creatlve Non-Violence. which is assisting in the dinner, yesterday held a news conference to deplore the inaugural's cost, put at upward of $25 million.
---
NOTE: Due to threats from employees of the Baltimore Sun this article has been edited to avoid copywrite litigation. Upon request, we would be happy to provide the entire wording of the article to serious researchers who might be interested.
---