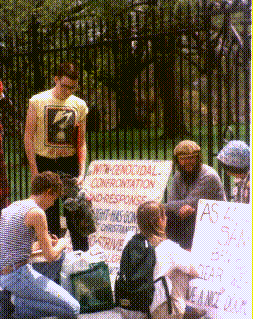 Washington Times, July 4, 1983 BRIEFLY / District
White House Protesters Win Round
A federal judge has temporarily blocked National Park Service rules designed to curb some activities by demonstrators in front of the White House.
Senior U.S. District Judge Wiiliam R. Bryant issued the order Friday on the regulations, which prohibited protesters from leaving parcels unattended for more than an hour and allowed only hand-held protest signs.
The American Civil Liberties Union challenged the rules, saying the park service did not follow requirements for a 30-day public comment period before putting them into effect. The ACLU also contended the regulations are an unconstitutional infringement on free speech.
Bryant said the ACLU probably would prevail in its challenge to the procedures followed by the Park service. He set a hearing for Thursday.
---