Jailed Veteran's VA Protest in Park Ruled Legal
May 1, 1976
By Lance Gay
Washington Star Staff Writer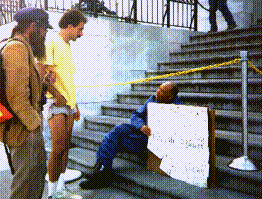 Stacey Abney, the 64-year-old Texas farmer who has been arrested 11 times for sleeping in Lafayette Park while pressing his grievances against the Veterans Administration, has won his first skirmish.
The U.S. Court of Appeals yesterday ruled that the U.S. Park Service acted improperly when it revoked Abney's permit to protest in the Park and arrested him 11 times while he was sleeping during his one-man protest there.
Furthermore, the appeals court ordered Park Police to return protest signs they had confiscated from Abney during his demonstration. Park Police had refused to return the signs - which cost Abney $9 - after his various arrests last year.
"My faith in government is renewed," said Ed Wilhite, Abney's court-appointed attorney, who last saw the hulking farmer from Quinlan, Tex., last October, when he was last arrested.
Abney, a former Army corporal who served as a truck driver during World War II, came to Washington last June with $40 to demand more benefits from the VA because of a case of rheumatic fever he said he contracted after he was inducted into the Army in 1942.
With a sign saying, "I will stay here until I get my VA rights," Abney demonstrated in Lafayette Park.
VA officials, who have conducterd extensive reviews of Abney's case at the behest of congressmen and senators, said Abney does not have a valid claim for 100 percent disability and that he is getting "the proper amount of disability" checks for his claim - 20 percent.
A spokesman for the VA said Abney could get more money if he were to apply for a pension instead of disability payments.
Abney does not agree. Last year he brought his case to the White House, asking President Ford's intercession. Park Police said it was not the protest but Abney's insistence on sleeping in the park that brought the 11 arrests.
THREE DAYS before he was first arrested for sleeping in the park in August 1975, Abney applied for a proper permit to demonstrate in the park. However, the Court of Appeals found that he didn't receive a reply denying him that permission until 19 days later.
Under the statutes governing demonstrations in the parks, the park superintendent has only 24 hours to accept or reject such a request. After the 24-hour period, a permit application "is deemed granted."
In effect, the appeals court ruled that by waiting so long, the Park Service had granted Abney the right to demonstrate in Lafayette Park. Thus the subsequent arrests violated Abney's First Amendment rights - to protest against the government - and the appeals court cancelled Abney's convictions.
The appeals panel noted that the Park Service does have the right to issue demonstration regulations.
Abney was sentenced to 30-day concurrent sentences by U.S. District Court Judge William B. Bryant last Oct. 21, but was released that week because he had already served that time awaiting sentence.
After he was released, however, he returned to Lafayette Park, was arrested again Oct. 28 and on Nov. 21 was sentenced to 45 days in jail.
MICHAEL E. GELTNER, a professor at Georgetown University Law Center's appellate division - whose students handled the Abney appeal - said Abney remained in the Washington area until about a month and a half ago.
Abney, who said he doesn't like to demonstrate here in the cold weather, hasn't been seen since. He could not be reached for comment yesterday.
Geltner said the student attorneys have had no success so far in dealing with the Texas farmer's complaints against the VA. Wilhite admitted that he, too, had no success with that issue.
Geltner said that the student who handled the case, Jame Ennis, hadn't heard from Abney in the last month.
---