"Journey For Peace"

---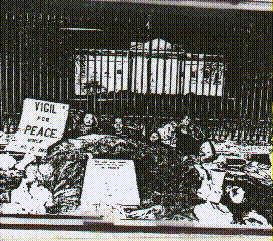 As President Nixon approaches the final destination of his "Journey for Peace" three members of the Quaker vigil for peace camp out in the freezing weather Sunday night on Pennsylvania Avenue in front of the White House. The Quakers have been holding the peace vigil since June 2, 1971.(AP wirephoto).
Citing a "common law public nuisance" provision, U.S. Police late last night impounded food and camping equipment from the participants in a peace vigil that has been kept for nearly a year in front of the White House.
One person was arrested during the impoundment shortly before midnight, police said, and charged with disorderly conduct. Three more arrests were made early today.
Park Police in a statement said the action was approved by the U.S. Attorney's office here and the Department of Justice. The statement also said the action was taken late in the night, to "minimize interference with downtown traffic and visitors to the White House."
INTERIOR DEPARTMENTofficials, the statement said, have been negotiating with demonstration leaders "since July, 1971" in an attempt to get them to comply with National Park Service regulations "that prohibit the storage of materials and camping on park land"--under which the White House area tecnically falls.
Sponsors of the vigil, the Quaker Peace Action Group, say it has been manned continuously since June2, 1971, on the south sidewalk of Pennsylvania Avenue in front of the White House.
The statement said also that there had been recent complaints from the public about the vigil.
"WE'RE TAKING IT TO COURT," said Ann Woytow, who said she has been involved in the vigil since last year.
She said that until last night, police had generally not interfered with the group. "This is something new, very unususal, very odd," she said.
Uniformed Park Police officers arrived in front of the White House about 11 p.m. and told the demonstrators they had half an hour to voluntarily remove rubbish, food and campoing gear.
After the deadline, Police began removing, imppounding material still on the sidewalk, giving protesters receipts for the goods.
The ranks of the protectors-numbering 75 to 100 during the day-had dwindled to about 25 by 3 a.m. today. Police moved among them, awakening those who appeared to be falling asleep.
THE THREE persons arrested at 6:30 a.m., were identified as Harry A. Thompson, of no fixed address, 29, charged with disorderly conduct and carrying a weapon, a knife; Melissa Jo Kelly, 20, of no fixed address, charged with disorderly conduct; and Jean Andrea Pillet, 26, also of no fixed address, chaged with disorderly conduct and simple assault.
The arrests occurred during an argument that broke out between police and demonstrators after one of the group spilled some powdered milk and was told to clean it up.
"It's pure harassment," said Ira Gilmore of Houston, Texas...
---