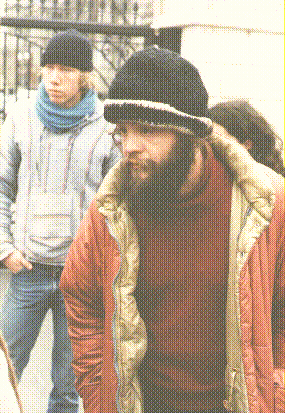 ---
"And you claim to uphold the Constitution?"
---
"The structures remained in front of the Executive Office Building. Myself and several officers remained in the area. I was in sonsert (sic) with Captain Canfield of the Second District of the Metropolitan Police Department." "At which time Captain Canfield was trying to get the General Counsel from the District of Columbia to authorize him to remove the structures. It was approximately one hour, maybe an hour and fifteen minutes before Mr. Canfield received approval from General Counsel to have the structures (sic) removed and to abate the nuisance(sic)." (Ibid Merillat)
Lieut. Merillat explained to Plaintiff that unless he removed his signs he would be arrested for having "unlawful living accommodations on Corporation Council property." Plaintiff asked why he was being informed as to violations of the D.C. Code by an official from another jurisdiction. Lieut. Merillat then introduced Capt. Canfield, explaining that Capt. Canfield would advise Plaintiff to the same effect, which Capt. Canfield did. (Plaintiff's recollection)
Plaintiff faced his tormentors and explained to them why they could make no pretensions, logically to devotion to the ideals of freedom of individual belief and expression.