STATEMENT OF
NEAL HAMMERMAN
DATE: JULY 10, 1985
TIME: APPROX. 4:30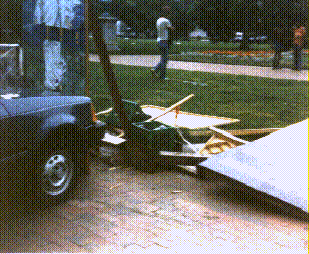 I WAS SITTING WITH CONCEPCION PICCIOTTO IN BETWEEN HER ANTI-NUCLEAR PROTEST SIGNS IN FRONT OF THE WHITE HOUSE, WHEN A CAR DRIVING EAST BOUND ON PENNSYLVANIA AVENUE MADE SUDDEN "U" TURN. THE TIRES OF THE CAR SQUEALED THE CAR BY A YOUNG WHITE MAN WITH BLACK HAIR.
HE THEN DROVE UP ON THE SIDEWALK AND ACCELERATED, MAKING THE TIRES OF THE CAR SPIN. HE RAMMED INTO THE SIGNS, COMING WITHIN TEN FEET OF HITTING CONCEPCION AND MYSELF, I IMMEDIATELY MOVED BACK FROM THE ON COMING CAR.
THREE OR FOUR OF CONCEPCION'S SIGNS WERE KNOCKED DOWN, AND OF THOSE, THEY WERE ALL DAMAGED. THE YOUNG MAN GOT OUT OF HIS CAR AND BEGAN YELLING ABOUT RONALD REAGAN, JESUS CHRIST AND CONCEPCION'S S SIGNS. THE POLICE AND THE MEDIA CONVERGED FROM THE WHITE HOUSE
THE POLICE ABDUCTED THE YOUNG MAN AND EVACUATED - THE AREA INCLUDING CONCEPCION MYSELF
AT NO POINT DID THE POLICE QUESTION OR ASK CONCEPCION OR I WANTED TO PRESS CHARGES, NOR DID THEY PROVIDE US ANY INFORMATION ABOUT THE YOUNG MAN INVOLVED.
THE MEDIA DID APPROACH ME. BUT REFUSED TO INTERVIEW CONCEPCION. THE OWNER OF THE SIGNS.

Subscribed and sworn to October 15, 1986.