'A CLOWN, A HAMMER, A BOMB AND GOD'
To Be Performed In LAFAYETTE PARK
JULY 4, 2000 At 6 P.M.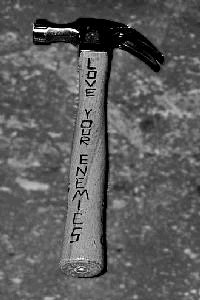 FOR IMMEDIATE RELEASE
CONTACT: Daniel Kinch, c/o Kairos Theatre Company, 212-714-5392
Kairos Theatre Company, a theatre company in residence and ministry at Washington Square United Methodist Church in New York City, is pleased to announce that the play A CLOWN, A HAMMER, A BOMB AND GOD, about the Plowshares Movement, will be performed at 6 PM in conjunction with Peace Vigil in Lafayette Park.
A CLOWN, A HAMMER, A BOMB AND GOD will also be performed on July 4 at 2 P.M. at Upper Senate Park, along with A GOOD DAY TO PIE, a play about the genetic modification of food.
The performances are in support of the Fellowship of Reconciliation's People's Campaign for Nonviolence, a 40-day series of teach-ins, protests and nonviolent civil disobedience that begins on July 1.
ABOUT THE PLAYS:
A CLOWN, A HAMMER, A BOMB AND GOD, is a one-man play about the Plowshares Movement. The Plowshares are pacifists who take literally the Biblical admonition of Isaiah to 'turn swords into plowshares' by disabling nuclear weapons. On Good Friday 1994 (which fell on April Fool's Day), a Catholic Priest named Carl Kabat dressed as a clown and broke into a Minuteman missile base in North Dakota. He proceeded to smash the silo doors on a Minuteman III Missile, preventing the silo doors from opening. Father Kabat has spent 14 of the last 18 years in prison for Plowshares actions. In A CLOWN, A HAMMER, A BOMB, AND GOD, actor Ben Roberts uses Father Kabat's action to explain the world view of the Plowshares and discuss the role of violence in pop culture.
A CLOWN, A HAMMER, A BOMB, AND GOD was originally produced by Artists In Search of... for the 1997 New York International Fringe Festival, and subsequently broadcast on Pacifica Radio Networks' Democracy NOW! Christmas Eve program. In 1999, The Lawyers Committee for Nuclear Policy (LCNP) sponsored the play's production for the 1999 Hague Appeal for Peace in The Hague, Netherlands, where it was also performed during the Hague Walk for Peace sponsored by For Mother Earth. A CLOWN, A HAMMER, A BOMB, AND GOD will also be performed a second time on July 4 at Lafayette Park, as part of a peace vigil organized by Proposition One, Pace E Bene, Nevada Desert Experience, and the Methodist Peace Fellowship.
A CLOWN, A HAMMER, A BOMB, AND GOD was written by Daniel Kinch. Actor Ben Roberts will be reprising his role as the activist priest. The production was directed by Rhett Wickham.
--
A GOOD DAY TO PIE is a one-woman show about the Biotic Baking Brigade (BBB), the San Francisco-based anarchist group which has targeted politicians and business leaders for 'pieing' by activists. Grassroots Unity, a Washington-based coalition of peace and social activism groups, is sponsoring the event, which will also include performers from the Washington Action Group (WAG).
In A GOOD DAY TO PIE, actress Rebecca Pridmore portrays the young woman activist who was responsible for the October, 1998 pie attack on the CEO of Monsanto. The young woman provides the audience with a 'Martha Stewart Show gone berserk' as she discusses the changes in the food she now cannot serve in the Mission-district soup kitchen she works at in San Francisco. She explains the issues of the 'copyrighting' of food under the GATT and MAI agreements, and points at the ramifications of the genetic alterations already forced on many staple foods. A GOOD DAY TO PIE is the young woman's mea culpa—her cry for understanding of her actions as she faces a stiff jail sentence.
A GOOD DAY TO PIE has now been performed some 25 times in New York, New Jersey, and Massachusetts. It has been performed at the Drew University 'Greening of the Church' Eco-Conference, and it has been performed at Gilda's Club (a cancer survivor's group) in New York. A GOOD DAY TO PIE was written by Daniel Kinch and directed by David Szlasa. It features Rebecca Pridmore as Vandana, the young activist.
Also included in the afternoon's entertainment will be a monologue from The Sweat of My Brow, a collection of monologues and plays about the lives of working people, performed by actor Michael Zorn.
To receive information about touring A CLOWN, A HAMMER, A BOMB, AND GOD, and A GOOD DAY TO PIE, call 2Clown Central at 212-841-0105. Visit our website at http://www.users.interport.net/~danmk/
PERFORMANCE INFORMATION/HOW TO GET TO UPPER SENATE PARK : Upper Senate Park is located on Constitution Avenue and bounded by Delaware Avenue and New Jersey Avenue. It is just north of the Capitol, and south of Union Station.
Performances in support of Fellowship of Reconciliation's People's Campaign for Nonviolence and in cooperation with Proposition One, Washington Action Group (WAG) and Grassroots Unity. All performances are free of charge.
ABOUT THE ORGANIZATIONS
Kairos Theatre Company is a ministry of Washington Square United Methodist Church. Kairos is Theatre with the specific intention of promoting social justice, peace, and non-violence. Visit their website at http://www.wsumc.org.
Fellowship of Reconciliation (FOR) is an interfaith organization committed to active nonviolence as a transforming way of life and as a means of radical change. Since 1915, FOR has carried on programs and educational projects concerned with domestic and international peace and justice, nonviolent alternatives to conflict, and the rights of conscience. For information about the People's Campaign for Nonviolence, visit their website at http://www.forusa.org.
Nevada Desert Experience (NDE): In the 20th century, the Western Shoshone Nation's homelands became the unfortunate location used for nuclear weapons tests conducted by the United States and United Kingdom. People of faith have gathered at the Nevada Test Site annually since 1982 to pray and to protest against nuclear violence. NDE celebrates the power of God's creation, analyzes the tragedy of nuclear weapons industries, and calls for ending the destruction and repairing the damage. http://www.nevadadesertexperience.org.
Proposition One: is a grassroots initiative for global disarmament of nuclear weapons and the conversion of the arms industries to human and environmental needs ... solar panels and windmills instead of missiles and bombs. Its efforts include the Peace Park Antinuclear Vigil (since June 3, 1981 every day and night in front of the White House). Lafayette ("Peace") Park is America's historic location for individuals and organizations to bring grievances before the president and the public. Information is available at http://prop1.org
Washington Action Group (WAG): Washington Action Group (WAG) is a peace and justice direct action affinity group based in Washington, DC.
Pace e Bene Franciscan Nonviolence Center (Pace e Bene is Italian for Peace and Well-being, the term St. Francis used to greet people in Assisi) is a non-profit agency of the Franciscan Friars of the Western Province. Pace e Bene explores the deep cultural roots of violence and offers programs in the spirituality and practice of active nonviolence like From Violence to Wholeness which gives people a vision and a toolbox to deal with conflict in their lives and the life of the world.


A-Z Antinuclear Weblinks | Proposition One | Depleted Uranium